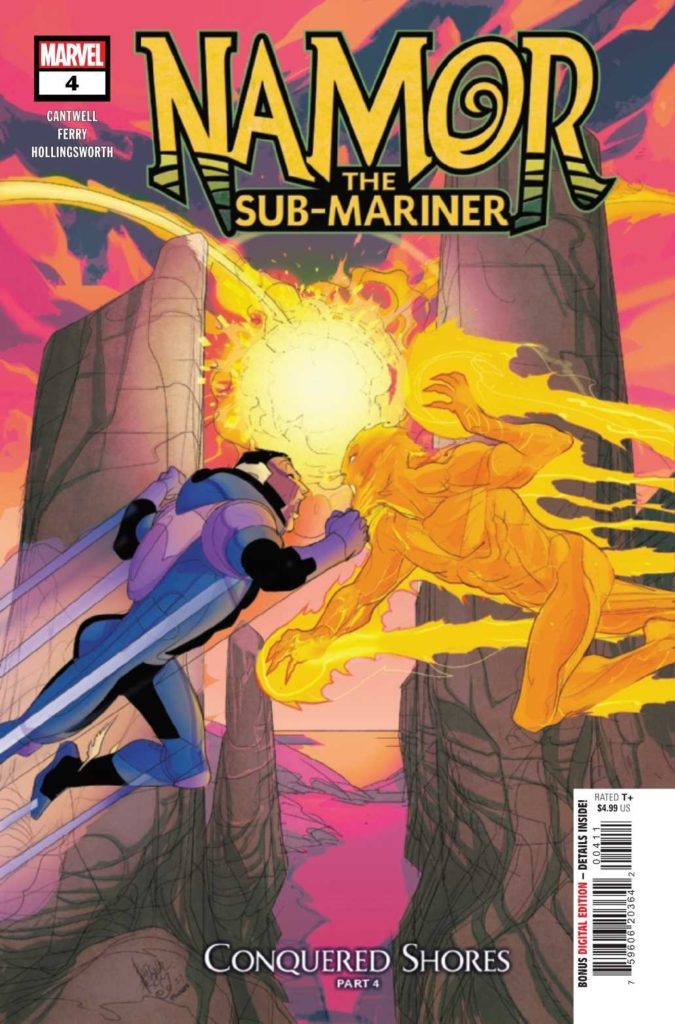 Namor The Sub-Mariner: Conquered Shores #4
Marvel Comics
Written by Christopher Cantwell
Art by Pasqual Ferry
Colors by Matt Hollingsworth
Letters by Joe Caramagna
The Rundown: Namor confronts an old friend as war looms for the survivors.
Namor confronts The Torch and their long history leads to an elevated conflict that only Luke Cage can end. Torch attempts to prove that the machine society has no plans for war against either the humans or Atlantis by taking them to their home. As they marvel at the society being built, tensions continue to grow as they remind Torch of the suffering of the human survivors.
At the same time, Steve Rogers talks with Eudora about humanity. A conversation an interested party is listening to. As the former Invaders talk about the possibility of peace, someone takes the first step towards war. A step that will pit the old friends against each other and plunge the struggling world into a conflict it might not survive.
The Story: Cantwell does a great job of ramping up the tension in this issue. All of the characters are on edge and it wonderfully drives the drama throughout the story. I love how Steve is being utilized in the story and his speech makes what happens next all the more poignant. I am excited to see where this story goes and how the conflict evolves.
The Art: Ferry delivers some great, dramatic art throughout the issue. The conflicts are brilliantly illustrated and visually engaging.