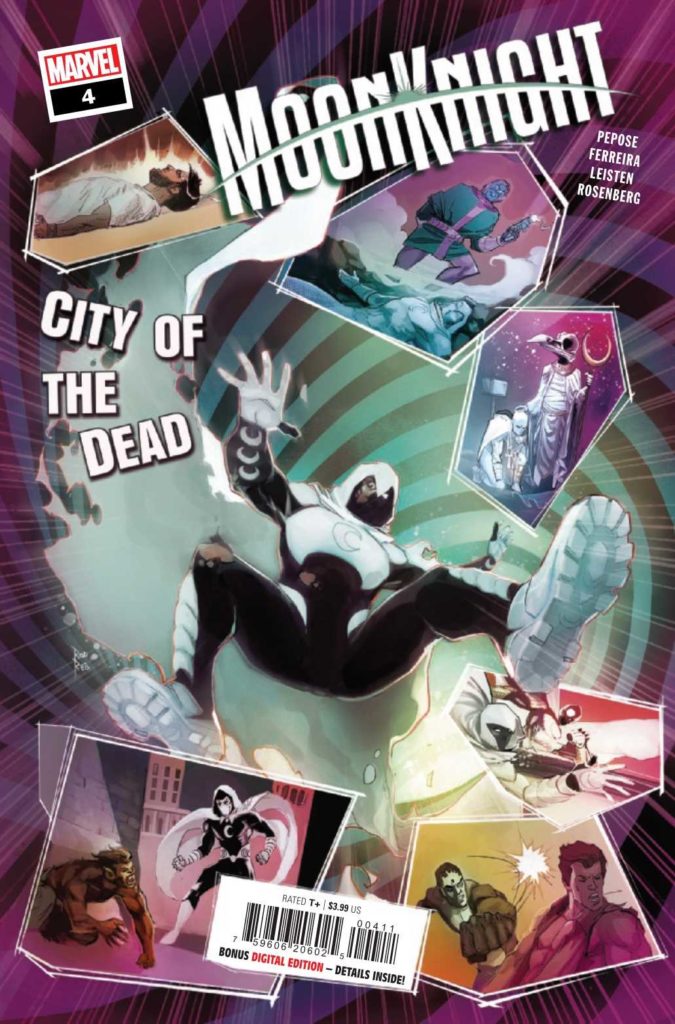 Moon Knight: City of the Dead #4
Marvel Comics
Written by David Pepose
Art by Marcelo Ferreira
Inks by Jay Leisten
Colors by Rachelle Rosenberg and Fer Sifuentes-Sujo
Letters by Cory Petit
The Rundown: Scarlet Scarab races to save the city while Marc faces his past.
Marc is trapped within Ammut facing the sins of his past as he is confronted by the people of his life. At the same time, Badr fights to keep the boy Khalil alive in the real world as Layla fights to bring his astral form to the temple of Osiris.
As the Jackal Knight and his forces level the city to stop them, Marc receives an unexpected visitor and Layla finds herself facing an army on her own.
The Story: Pepose delivers a fantastic emotional journey for Marc in this issue while also giving the story great action and thrills. The personal journey for Marc was handled beautifully and gives any new reader to the character an insight into his past and what drives his mission. The story has a great build up of tension that culminates in a fantastic cliffhanger that makes me excited to see what comes next.
The Art: Ferreira delivers visual thrills throughout the issue. The art is inventive and engaging and perfectly captures the suspense and tension of the story.