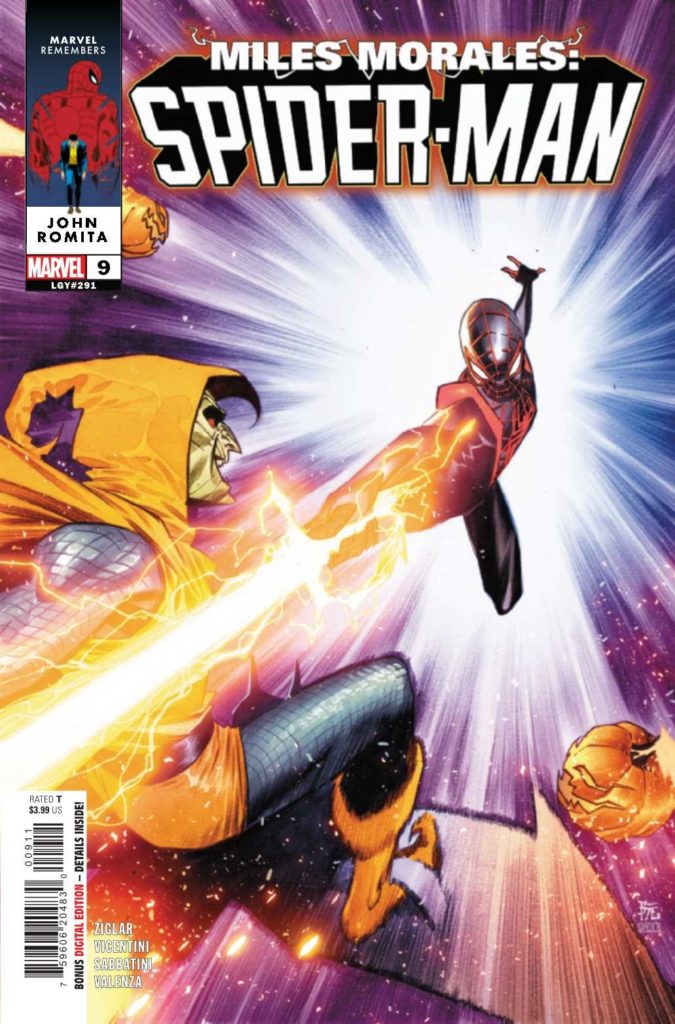 Miles Morales: Spider-Man #9
Marvel Comics
Written by Cody Ziglar
Art by Federico Vicentini and Federico Sabbatini
Colors by Bryan Valenza
Letters by Cory Petit
The Rundown: Miles has a final confrontation with Hobgoblin as he continues to deal with a dangerous condition.
Miles continues his battle with Hobgoblin who will kill anyone in his way to escape with the tech he's stolen from the Beyond Corporation. At the same time, Starling finds an unlikely ally in the rubble who is willing to help her escape and find Miles before it's too late.
As Miles and Hobgoblin continue their pitched battle, Miles' lack of spider-sense continues to be a hindrance that could get him killed. As the battle comes to an explosive conclusion, Miles decides that maybe it's time that he gets help.
The Story: Ziglar brings this battle to a satisfying and explosive conclusion. The action is fantastic and I love the tension and tone of the story a lot. There were some big dramatic moments throughout and Miles' conflicts continue to be intriguing. I really liked the moments between Miles and Starling and the Hobgoblin motivation is intriguing enough to make me want to know more.
The Art: Vicentini and Sabbatini deliver some pulse pounding art throughout the issue. The visuals are stylish and perfectly match the frenetic and action-packed tone of the story.