Miles Morales: Spider-Man #42
Marvel Comics
Written by Saladin Ahmed
Art by Carmen Carnero, Paris Alleyne, Ig Guara, Paco Medina, Walden Wong, Alitha E. Martinez, Natacha Bustos and Christopher Allen
Colors by David Curiel
Letters by Cory Petit
The Rundown: Miles gets an interesting look at his own future.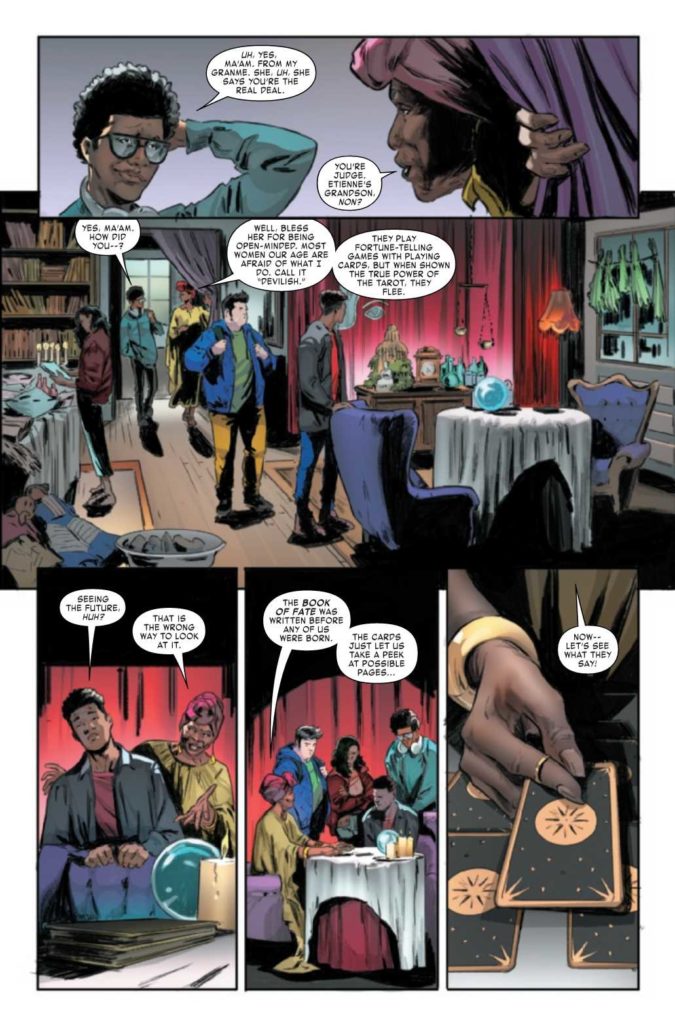 Miles and his friends decide to hang out together and find a fortune teller. A fortune teller who takes an interest in Miles and decides to give him a free reading. A reading that showcases his life as both hero and student.
On a special night, Miles must deal with the reality of going to college, functioning in his relationship with Tiana as well as his home life with his family. While balancing all of his personal issues, he also finds himself teaming up with Rhino to stop Snatcher who has kidnapped a new group of kids to turn into soldiers.
The Story: An entertaining and engaging story that brilliantly dives into the personal and professional life of the character in a way that gives the reader great insight into who Miles is and the everyday conflicts that he faces both as a hero and a student. The interpersonal moments work really well and there is a great tone to the story that I enjoyed.
The Art: All of the artists deliver some beautiful art throughout the issue. Each art style complements the other as well as the story and its characters.