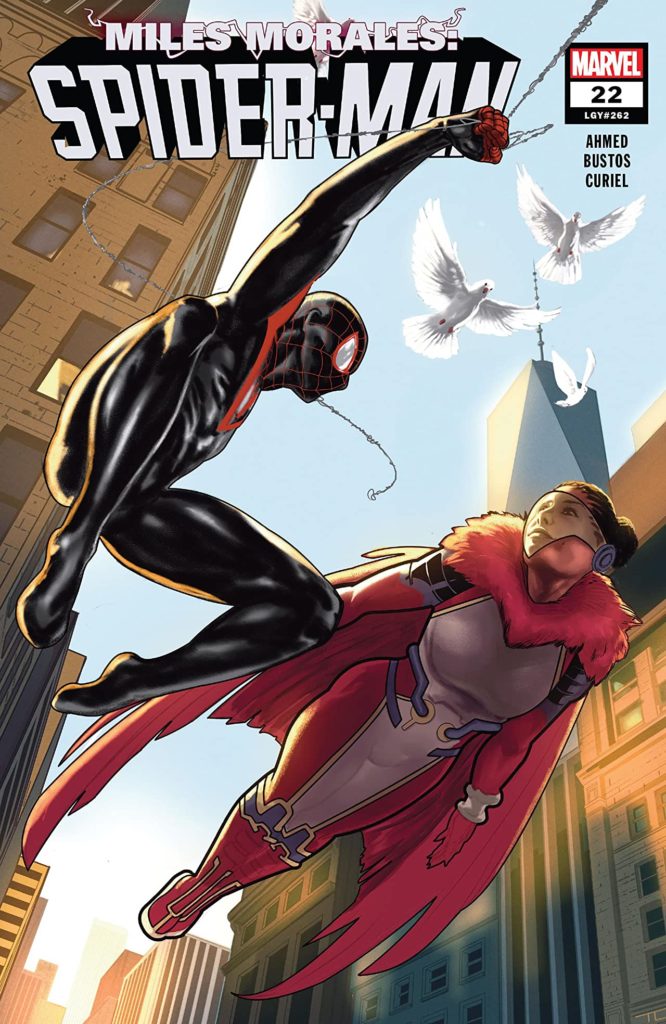 Miles Morales: Spider-Man #22
Marvel Comics
Written by Saladin Ahmed
Art by Natacha Bustos
Colors by David Curiel
Letters by Cory Petit
The Rundown: In the aftermath of losing a loved one, Miles takes to the streets to blow off some steam.
The Morales family is rebuilding their home in the wake of an attack and Miles decides to spend some time as Spider-Man as his friends deal with the consequences of their protest against the forces of C.R.A.D.L.E. As Miles patrols the skies over Brooklyn, he finds he's not alone when Starling arrives with some personal issues of her own to deal with. Issues that have to do with her grandfather. As Miles tries to help his new ally, they are both interrupted by the return of the Frost Pharaoh.
As the two heroes spring into action to take on the threat, Miles' best friend and his ex start to get closer. As the Frost Pharaoh moves through the city with his sites set on retrieving the power taken from him, Miles and Starling will have to come up with a new plan if they are going to take him down.
The Story: In the wake of the big emotional arc that was just concluded, Saladin Ahmed decides to bring a lighter tone to this issue. The tone works well and I like the fact that Miles' story transitions back to him being a teenager as well as a hero. The plot is good and I liked having Starling in the story as well. Their dynamic is interesting. The side story with Ganke is done well. A good issue that has a light tone that works for the character.
The Art: The art does a good job of matching the lighter tone of the story, but it didn't work for me. It was too simple in its style and design and there wasn't anything visually dynamic or interesting in the issue.