Miles Morales: Spider-Man #11
Marvel Comics
Written by Cody Ziglar
Art by Federica Mancin
Colors by Bryan Valenza
Letters by Joe Caramagna
The Rundown: Miles teams with Blade and his daughter when vampires invade Brooklyn.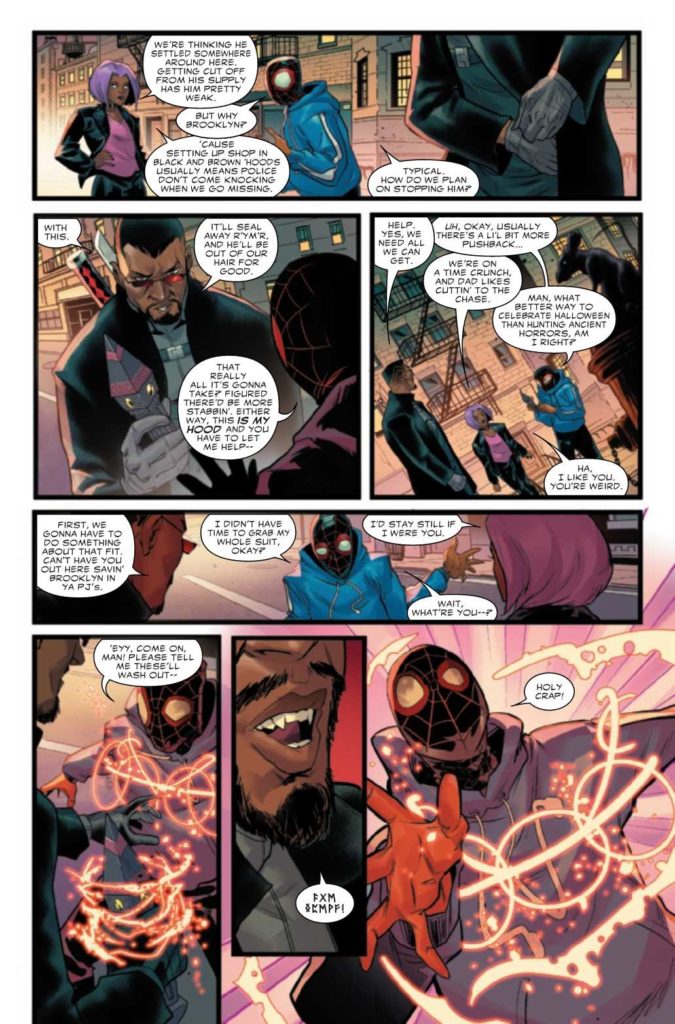 In the aftermath of being attacked by a vampire taking out his trash, Miles finds himself face to face with Blade and his daughter Brielle.
After deciding to team up, Blade gives Miles a magical new suit and the three go hunting the vampires in hopes they will lead them to their leader. Unfortunately, Hightail is still scouring the city looking for Miles and when she finally catches up to him she might be exactly what the vampire leader is looking for.
The Story: A fun, fast paced and entertaining story with a Halloween twist. Miles teaming up with Blade is an interesting ride for fans and I really liked the energy and the frenetic, action packed pace of the story. Ziglar delivers some entertaining thrills and a fun little arc that makes me intrigued to see what happens next.
The Art: Mancin delivers fantastic art throughout the issue. The imagery perfectly captures the frenzied, action filled tone of the story.