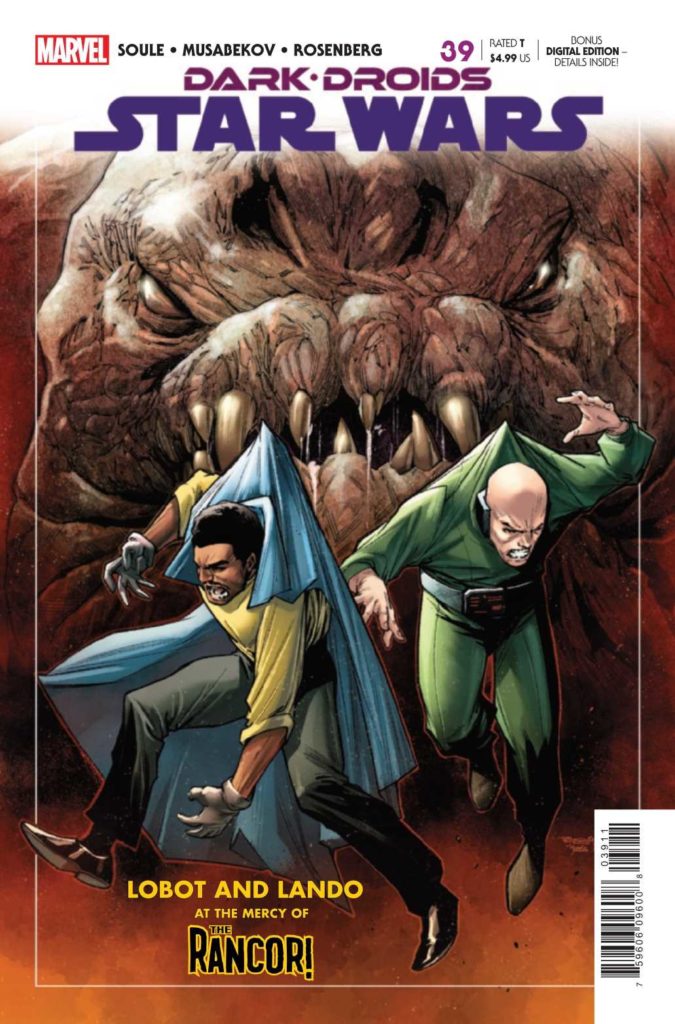 Star Wars #39
Marvel Comics
Written by Charles Soule
Art by Madibek Musabekov
Colors by Rachelle Rosenberg
Letters by Clayton Cowles
The Rundown: Lando attempts to escape Jabba's palace with an army of droids blocking his path.
Lando fights to escape from an angry Rancor beneath Jabba's throne and the protocol droid he came for gives them the time they need. Unfortunately, things only get more dangerous.
When the army of possessed droids continues their campaign of death in the palace, Lando's escape plan runs into a snag when Lobot is taken. When they finally catch up to him, they discover the next phase of the Unifying Intelligence's plan.
The Story: There continue to be things I like about this storyline and others that continue to irk me. There is some great action in the issue and I like that the focus of the arc is squarely on Lando and his relationship with Lobot, but the logic leaps this story takes bother me. The biggest one being that even though Lando never attempts to free Han (and the story does give a passable explanation), not telling anyone, including Luke, about the damn Rancor under Jabba's throne is just poor writing that I can't look past.
The Art: Musabekov delivers some great action throughout the issue and the art offers some truly disturbing imagery that works for this story.