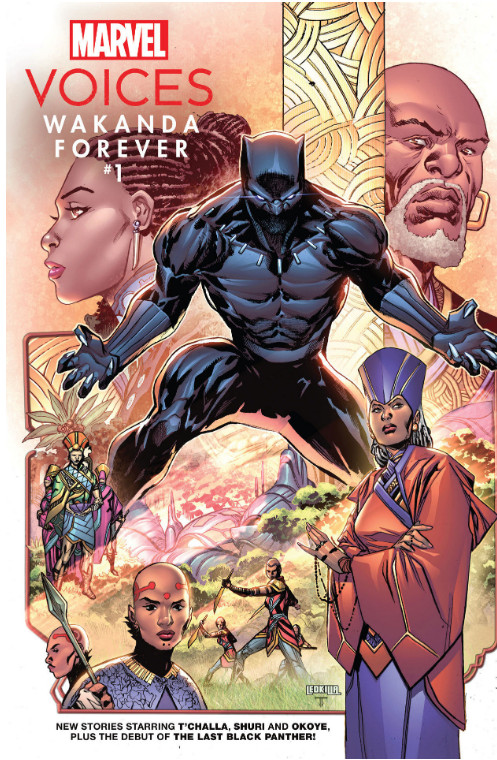 Marvel Voices Wakanda Forever #1
Marvel Comics
Written by Karama Horne, Adam Serwer, Murewa Ayodele, Dr. Sheena C. Howard and Juni Ba
Art by Alitha E. Martinez, Todd Harris, Dotun Akande, Marcus Williams and Juni Ba
Colors by Rachelle Rosenberg, Jordie Bellaire, Dee Cunniffe and Chris O'Halloran
Letters by Joe Sabino
The Rundown: Writers and artists celebrate the characters and world of Wakanda.
The Old Ways
T'Challa takes to the stars to take a journey of discovery and knowledge with the spirits of his ancestors. In the wake of his current struggles, he wants to know how he can still protect Wakanda. A conversation that will be both filled with tension and revelations as T'Challa faces an unexpected opponent.
An entertaining story with some strong writing and character moments. The art is beautifully done and emotional.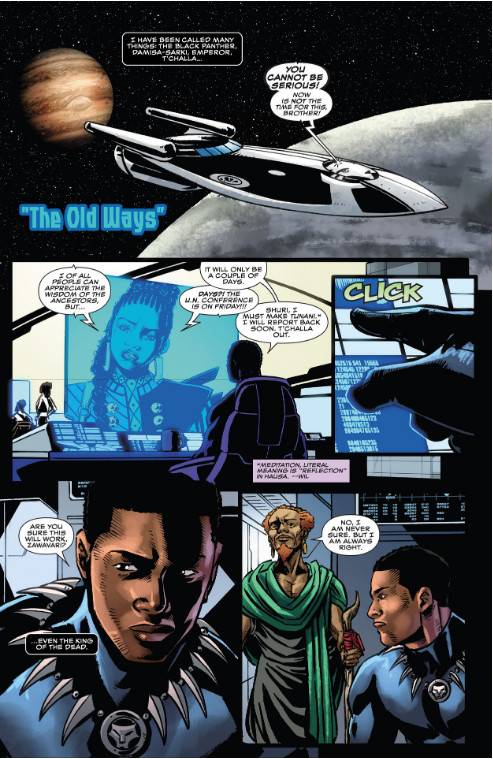 The Education of Changamire
Young Changamire, a friend of the prince, has questions of his teacher Iyoba when she discusses the Wakanda law of isolation as the world turns towards war. He brings his concerns to his friend the prince and learns from the current Black Panther that Iyoba was not always a teacher. A fact that will give both young men cause to question when Iyoba is brought before the king after planning to use Vibranium to help stop their neighbors from being colonized.
A wonderfully thought-provoking story with no easy answers and great characters throughout. I love the story for showcasing that education is not confined to the classroom. The art is beautifully detailed and visually engaging.
Remember The Name
An unknown invader seeks to break the barrier protecting Wakanda and the only way to stop him is with a spell that brings death. Unfortunately, a key component is missing as the creature breaches the city leaving death and destruction in his wake. The only person who can stand against this creature is Shuri, but she might not have the answer she seeks.
An entertaining and thrilling story filled with great action. I enjoyed the progression of the story a lot as well as how Shuri is portrayed within it.
The Illusion of Fairness
T'Challa and Okoye watch over the initiation of new members of the Dora Milaje. When one of them named Chante continues to fail the one on one battle, the group is told a story of intellect over strength in the hopes of training the young initiate.
A fun, inventive and entertaining story with a great art style that draws in the reader.
The Last Black Panther
Destruction has come to the entire world and not even Wakanda is safe from it. As the Golden City falls under the destruction, a lone Black Panther drone works its way through the crumbling city and falling sky to reach someone who can take the precious cargo it is carrying.
A beautiful story of resilience and memory with great art throughout.