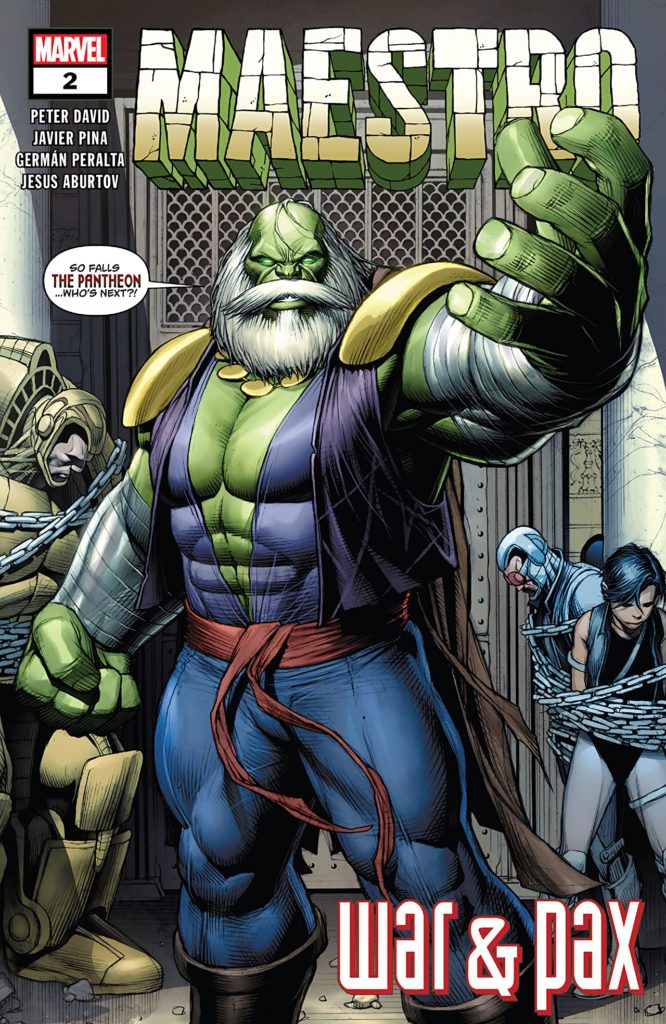 Maestro: War & Pax #2
Marvel Comics
Written by Peter David
Art by Javier Pina and German Peralta
Colors by Jesus Aburtov
Letters by Travis Lanham
The Rundown: The Pantheon pays a visit to the Maestro.
As the Maestro consolidates his power in the former United States, a group of immortal heroes watches his moves from their hidden base. When Doctor Doom pays the Pantheon a visit, he comes with a proposal to end the threat of the Maestro once and for all by attacking the one part of Hulk that is the most vulnerable, Banner.
As the Pantheon goes to see their old friend, he welcomes them with open arms. After they tell him about a mission they're planning, he decides to come along and learns that this new world has no place for old friends. A second story recounts the events that hardened these heroes in their fight and how they prepared for war when a dark force took one of their own.
The Story: Peter David continues to widen the scope of the world of the Maestro and while the story is interesting, it highlights a problem with that world. Banner consistently seems to either miscalculate of misinterpret things around him to his own peril and I didn't get to see the cold, calculating intellect that the character is known for. He seemed to just fall for an obvious trap. Maybe there's more behind it and maybe not. It will be interesting to see if there is.
The Art: Pina and Peralta deliver some impressive art in this issue. There are some great visual moments throughout and even the lack of action still has a sense of movement and energy to it.