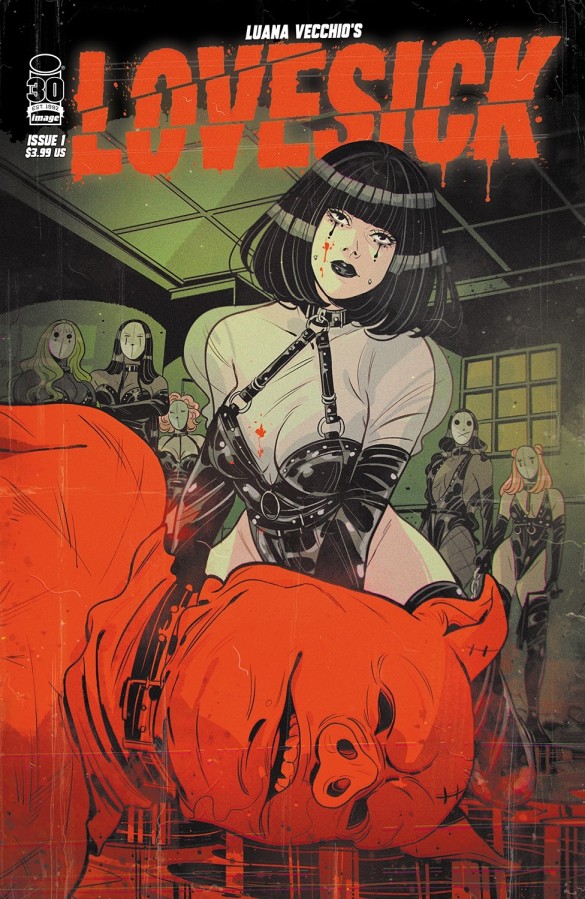 Lovesick #1
Image Comics
Story and Art by Luana Vecchio
English Adaption by Edward Cao

The Rundown: Dominatrix Domino and the Domino Girls appear in an on-line broadcast with select participants.
Domino and her girls create a macabre internet live feed with a willing participant. Sometime later, she goes about what appears to be her daily routine. Afterwards, Domino's full online performance is shown including screen captures of the online commentary by her fans. Finally, we see Domino in an intimate moment with one of her "Piggies."

The Story: Vecchio creates a bloody and dark narrative that explores the more gruesome sectors of BDSM. This story is for mature audiences and most certainly not for the faint of heart. On its surface, this is the story of a group performing online, consensual, sexualized acts of violence and gore. Basically, OnlyFans for the depraved. And yet, I can also see a possible deeper meaning. One can conjecture that Domino's punishments are a form of extreme feministic retribution, in which the dominatrix and her girls turn the tables on their misogynistic enemies. It certainly points out the disturbing nature of radicalized internet trolls and their calls for violence against women that likely stems from rejection. I found this story both intriguing and ground-breaking, and I am interested in seeing how it will progress both thematically and from a world building perspective.

The Art: As a warning, this issue contains explicit sexual content, nudity, and graphic violence. The illustration is done in a traditional, realistic styling that calls to mind both noir comic print and vintage pin-up. I am immediately reminded of Bettie Page, but also, I see the correlation with modern icons such as Grace Jones, Madonna, and Rihanna. I applaud the boldness of the artwork and feel that it perfectly captures the story's tone.