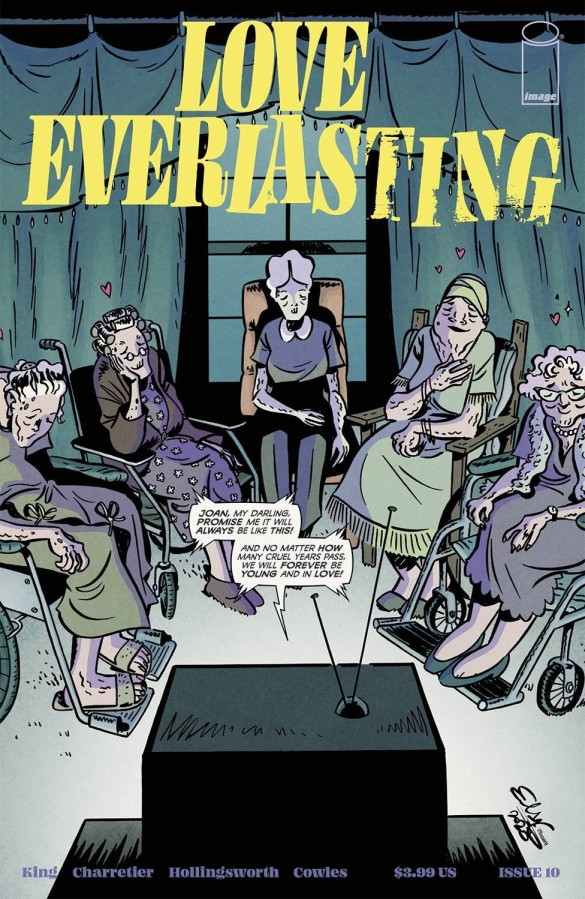 Love Everlasting #10
Image Comics
Written by Tom King
Art by Elsa Charretier
Colors by Matt Hollingsworth
Letters by Clayton Cowles
The Rundown: Joan finds herself actually falling in love as her long years catch up to her.
In the wake of everything she's lost, Joan continues to find fulfillment in her life. Even though the year never changes from 1963, she continues to grow older and enjoy time with her kids, grandkids and great-grandchildren.
After taking a spill at home, her sons convince her to move into a retirement community where she meets Ralph. After finally finding the love she never thought she could have, her life is upended again and this time she decides it is going to be the last time.
The Story: King takes the reader on an emotional roller coaster in this issue. The story continues to be compelling, entertaining and wholly original. I love the buildup of Joan's love story with Ralph and how brilliantly King pulls the rug under the feet of both Joan and the reader to bring her and us to a place of grim determination with a shocking finale.
The Art: I continue to love the classic romance comic style of this story even as the events take a dark and violent turn. A beautifully detailed and visually stunning issue.