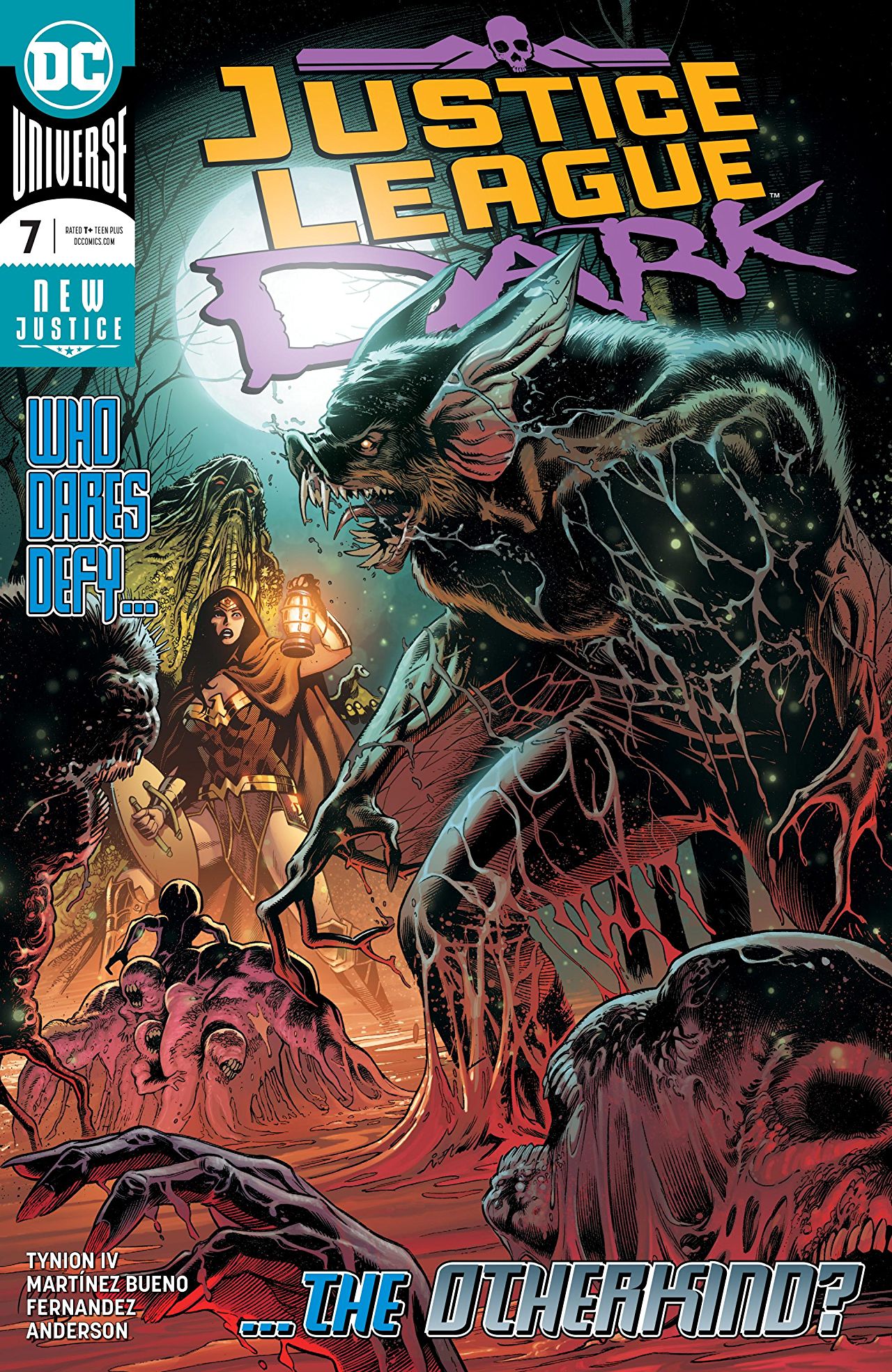 Justice League Dark #7
DC Comics
Written by James Tynion IV
Art by Alvaro Martinez Bueno
Inks by Raul Fernandez
Colors by Brad Anderson
Letters by Rob Leigh
Kirk Langstrom aka Man-Bat is the host of this issue that has overt comparisons to horror comics like Tales from the Crypt and The Vault of Horror.
The Otherkind has been making their presence known on Earth and tales of the horror they are unleashing are going to have a definite effect on the League's ability to get rid of them. Three stories showcase the power and horror of this new threat with the first tale putting Zatanna in the middle of a club that caters to an exclusive clientele. Unfortunately, that club is run by Hell itself. When Zatanna tries to warn the club's owner about the Otherkind, he banishes the magician before facing the Otherkind with some disturbing results.
The next story finds Detective Chimp and Swamp Thing investigating a nest of Vampires that have been taken over by a member of the Otherkind. The situation is so dire that I,Vampire himself runs in terror. The dead crew of a surfaced submarine draws in Frankenstein, Wonder Woman and S.H.A.D.E. The final story finds Zatarra making a desperate attempt to contact his daughter with information that might save the world.
I absolutely love both the premise and the format of this issue. The classic EC Comics feel of this story and casting Kirk in the role of Crypt Keeper is an inspired choice. Kirk's role on the team hasn't really been defined in many respects. He seems to be there to be in awe of magic, but James Tynion IV has managed to find a way to make his presence on the team meaningful in how he's chronicling the events they are investigating.
The pace of the story is entertaining as well. The issue is broken up into four separate stories with one overarching theme and it is done extremely well. Each story builds on the tension of the previous one and the horror of the stories are punctuated by some amazing art by Alvaro Martinez Bueno. This is a great issue and I can't wait to see where this story goes and what happens next for this team.