According to reports from both The Hollywood Reporter, Variety and confirmation from the family's publicist that Stan Lee's beloved wife Joan has died at the age of 93.
According to sources close to the family, Joan Lee suffered a stroke earlier this week.
Joan and Stan were married in December of 1947 and by all accounts were devoted to each other for the last 70 years. (The couple's 70th wedding anniversary would have been this year.) Joan Lee, formerly a model, met Stan by accident as he was at her door to go on a date with her roommate at the time. According to Stan in an interview;
"So I went up to this place. Betty didn't answer the door. But Joan answered, and she was the head model. I took one look at her — and she was the girl I had been drawing all my life. And then I heard the English accent. And I'm a nut for English accents! She said, 'May I help you?' And I took a look at her, and I think I said something crazy like, 'I love you.' I don't remember exactly. But anyway, I took her to lunch. I never met Betty, the other girl. I think I proposed to [Joan] at lunch."
Joan and Stan were married in Nevada and moved to New York when Stan got a job at Marvel Comics. Thinking that the job wouldn't last long, Stan was about to leave when Joan convinced him to write one comic that he was proud of. He credits her as inspiring him to team with Jack Kirby and create The Fantastic Four.
Joan herself was a writer and voice actress. She provided the voice of Miss Forbes for the 1990 animated Fantastic Four series as well as the voice of Madam Web for the Spider-Man animated series from 1996-1998. She also followed her husband to the big screen marking her one and only cameo in the film X-Men: Apocalypse.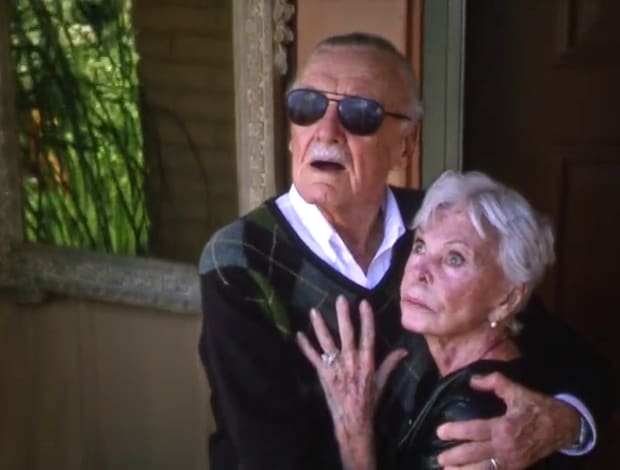 @superpoweredfan on Twitter