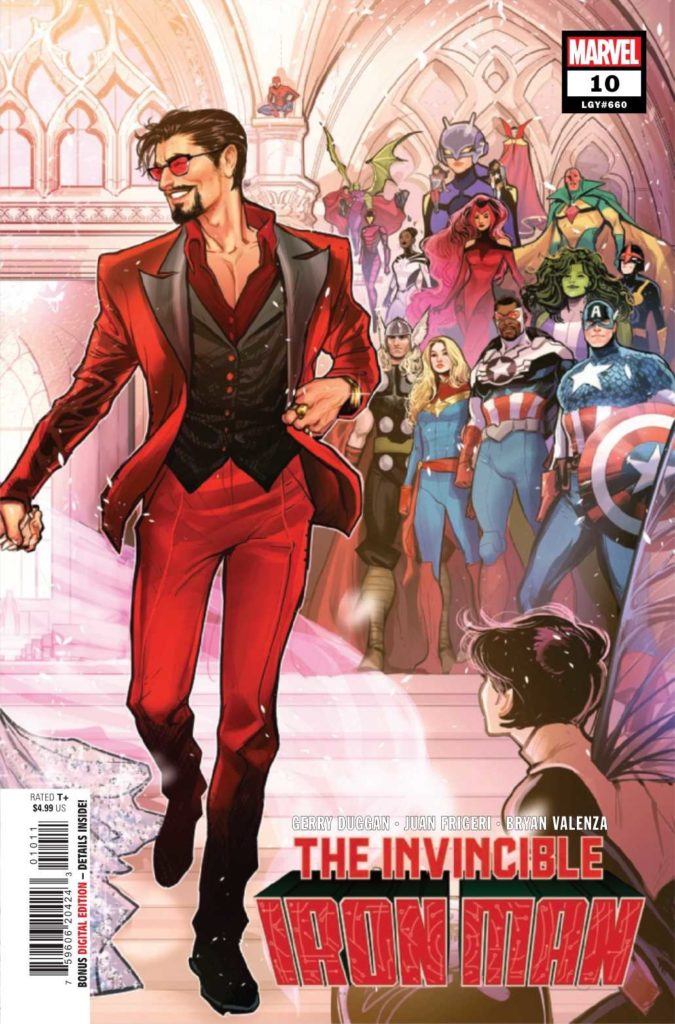 Invincible Iron Man #10
Marvel Comics
Written by Gerry Duggan
Art by Juan Frigeri
Colors by Bryan Valenza
Letters by Joe Caramagna
The Rundown: Tony Stark marries Emma Frost with a very special guest in attendance.
Rhodey is still in prison accused of murder and his constant abuse at the hands of the guards and inmates will end abruptly with the help of an unexpected benefactor. At the same time, Feilong's crashing of the Hellfire Club will lead to an unexpected comedy of errors that will find Tony Stark proposing to his assistant who happens to be Emma Frost in disguise.
As the pair use the announcement to plan their next move against Orchis, Tony suits up to get some equipment. At the wedding, an uninvited guest arrives right on schedule and provides some valuable intelligence for the happy couple.
The Story: Duggan crafts an exciting and entertaining story filled with humor and action. I love the Emma Frost/Tony Stark dynamic and how they play off each other as well as how they work together. I love the deep dive into Feilong's mind and the revelations about his past. I look forward to the next issue and what both characters have in mind for both their mission and their life together.
The Art: Frigeri delivers some beautifully detailed and creative art throughout the issue. The visuals are exciting and compelling throughout.