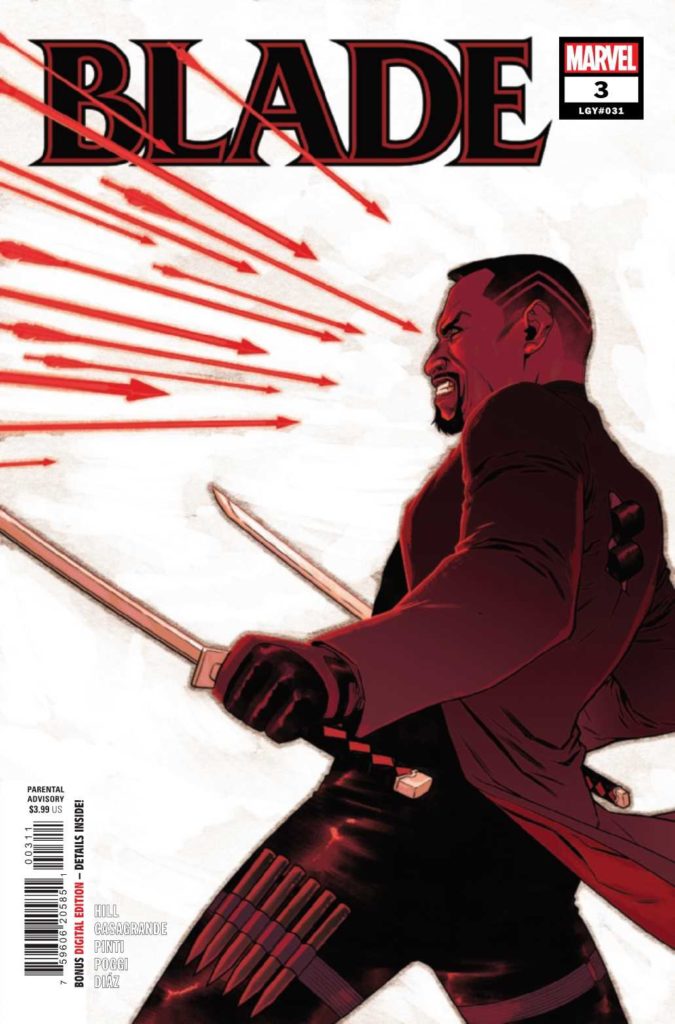 Blade #3
Marvel Comics
Written by Bryan Hill
Art by Elena Casagrande and Valentina Pinti
Inks by Elena Casagrande, Roberto Poggi and Valentina Pinti
Colors by KJ Diaz
Letters by Cory Petit
The Rundown: Blade learns of a weapon that can defeat the Adana while the demon prepares to change the world.
The Adana continues to make its presence known after easily defeating a group of sorcerers sent to stop it. At the same time, Blade deals with being possessed by a demon determined to kill Tulip.
In the aftermath, Tulip tells Blade about a magical weapon that can potentially kill the Adana. Unfortunately, it is in the hands of a dangerous person who is always on the move. When Blade and his allies are attacked in public, they receive a much-needed rescue from a familiar face.
The Story: Hill crafts a fun, frenetic and action-packed story in this issue. The story has a fantastic blend of horror and dark humor throughout and caps it all with fantastic action and adventure. The issue delivers on everything that makes Blade a great character and culminates in not only a great quest for the character with high stakes, but an awesome reveal at the end of the issue that makes me excited for the next installment.
The Art: Casagrande and Pinti deliver fantastic art that beautifully brings to life the great action and horror in the issue.