The Halloween season is here and in the run up to the big day I decided to
examine what is considered "scary" in the world of horror movies.
Going with Rotten Tomatoes list of the 31 scariest movies, I decided to
compare each film with another horror film from the same year to determine which one I found scarier.
Both of the films in this showdown couldn't be more different. One takes a new approach to a familiar genre while the other goes for the classic elements that make up a haunted house movie. So which one is scarier? Is it A Quiet Place or Winchester?
A Quiet Place
If they hear you, they hunt you. A family must live in silence to avoid mysterious creatures that hunt by sound. Knowing that even the slightest whisper or footstep can bring death, Evelyn and Lee are determined to find a way to protect their children while desperately searching for a way to fight back.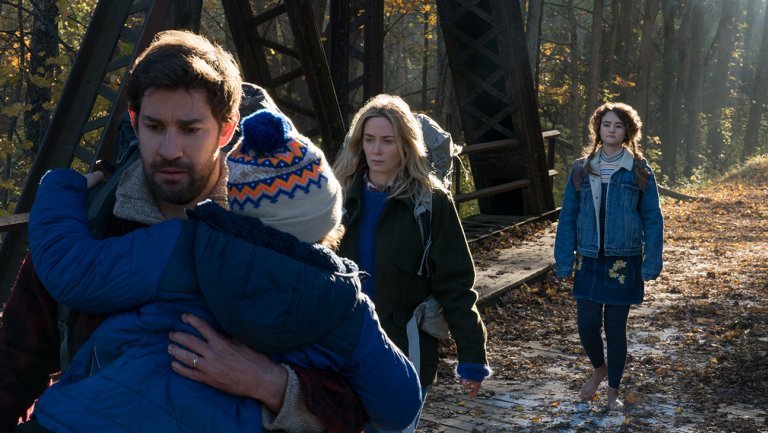 The pictures of John Krasinski and Emily Blunt in the film are their real family photos.
Pros
Great story.
Beautifully executed, tension filled moments starting from the first few minutes.
The creatures are terrifying.
The pace and plot make you care about the people and what happens to them.
Cons
The father's sacrifice seemed unnecessary in the wake of how clever and inventive he's been throughout the movie.
The fact that no government used high frequency sound against creatures who hunt by using sound is far fetched.
Winchester
The most haunted house in the world sits on an isolated stretch of land that's 50 miles outside of San Francisco. Built by Sarah Winchester, heiress to the Winchester fortune, it stands seven stories tall and contains hundreds of rooms. To an outsider, it looks like a monstrous monument to a disturbed woman's madness. But Sarah's actually building a prison, an asylum for hundreds of vengeful ghosts — and the most terrifying among them have a score to settle with the Winchesters.
Sarah Winchester constantly built and rebuilt the house for 38 years until an earthquake in 1906 trapped her in one of the rooms. After she was rescued, she didn't stay in the house again.
Pros
Some good imagery.
Great special effects.
Great premise.
Helen Mirren is a treasure.
Cons
Under utilized and criminally wasted Helen Mirren.
The movie tries too hard to be scary.
The movie shoehorns in poignancy that feels trite.
The film just doesn't go anywhere thematically and everything feels like a poor copy of something done better in another film.
For taking the classic monster genre and turning it on its head, the winner of this showdown is hands down….
A Quiet Place
Do you agree? Let me know which one of these films you consider scarier. Leave your comments below.