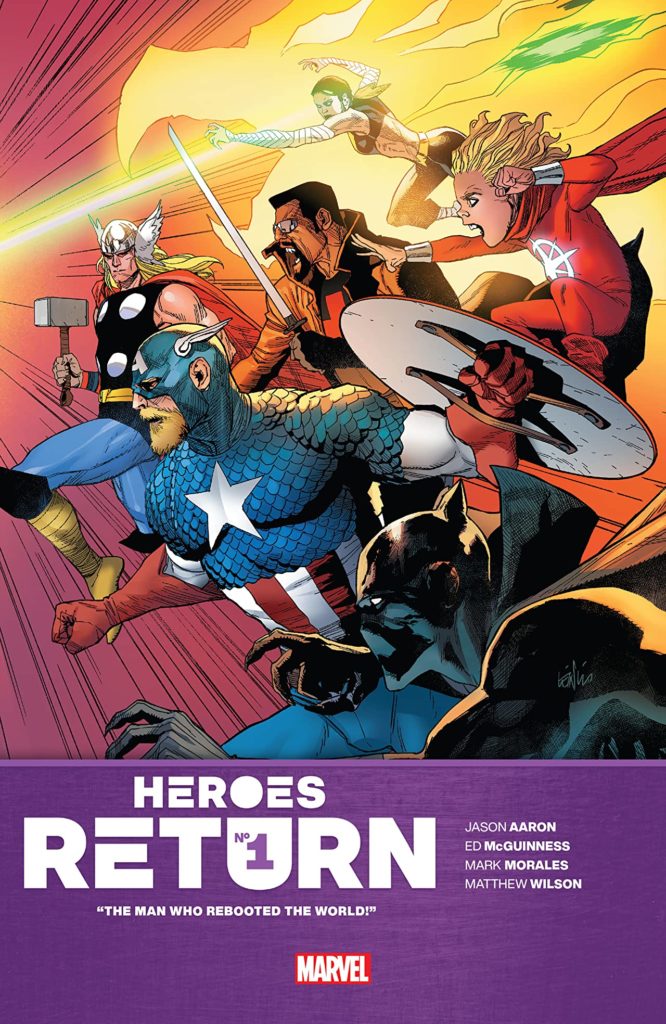 Heroes Return #1
Marvel Comics
Written by Jason Aaron
Art by Ed McGuinness
Inks by Mark Morales
Colors by Matthew Wilson
Letters by Cory Petit
The Rundown: In order to save the world he's created, Phil Coulson heads to Wakanda to stop the Avengers.
Coulson takes his twisted cosmic cube on a mission to stop the reformed Avengers in Wakanda. With the Squadron Supreme already on the scene and battling the Avengers, Coulson is prepared to sacrifice everything and everyone to hold onto his perfect world. The Avengers find themselves fighting the Squadron and many of them know that the world has been changed, but are fighting to keep it that way. When word comes in that Coulson is coming with fighters in tow, Captain America takes to the skies to stop him.
An epic battle will bring the heroes together and some will discover connections they never knew they had. Some will discover a deeper truth and Coulson will learn the cost of his new alliance. In the aftermath, things will change for both sides and the power behind Coulson's new world will reveal a bigger and more expansive plan to come.
The Story: Jason Aaron brings this series to an exciting and satisfying conclusion. The entire issue is action packed, but everything serves both the characters and the plot. All of the plot points are given their due in this issue and no moment feels wasted or unnecessary. I'm still on the fence with Coulson being a villain, but Aaron makes the character work in these circumstances. The aftermath of the story was thrilling, but also interesting in how it continues the story and teases something more dramatic to come.
The Art: McGuinness delivers some beautifully detailed art throughout this issue. The action is thrilling and the characters look amazing.