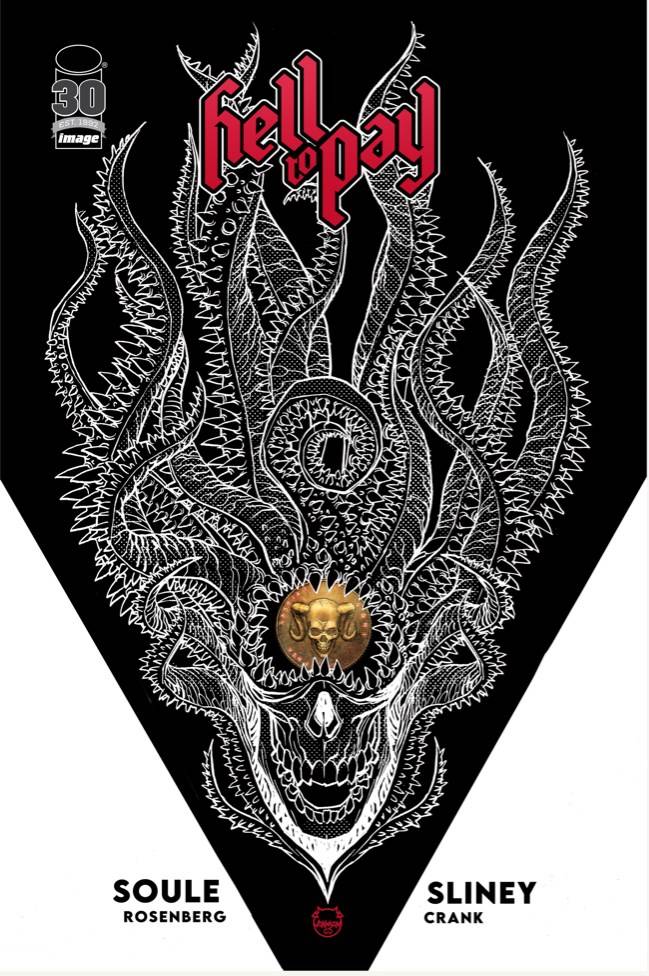 Hell to Pay #6
Image Comics
Written by Charles Soule
Art by Will Sliney
Colors by Rachelle Rosenberg
Letters by Chris Crank
The Rundown: Aamir cashes in his ill-gotten fortune for a one on one with the Devil while Maia fights to save her husband.
Aamir has finally gotten enough coins to summon the Devil himself. Unfortunately, he must go through a series of demons and deals in order to get the audience he wants. At the same time, Maia fights Aamir's assistant to stop the machine and return Sebastian's soul.
After giving him some of his soul back, Sebastian has enough power to help in the battle, but when they finally confront Aamir and the Devil, they discover just how powerless they are. As the Devil takes his revenge on Aamir for being summoned, he decides to let the couple go after being darkly curious about the child Maia is carrying. A child that will need the protection of the College.
The Story: Soule brings this arc to a satisfying conclusion filled with great action, thrills and surprises. The characters continue to be compelling and I love the complications Maia and Sebastian get into. The story has some dark turns and they work really well with the tone and themes of the story. I look forward to seeing more stories from this world and with these characters.
The Art: Sliney delivers some beautifully detailed and visually thrilling art throughout the issue/ I love the demon designs and how strange and different they all are. A great looking book from start to finish.