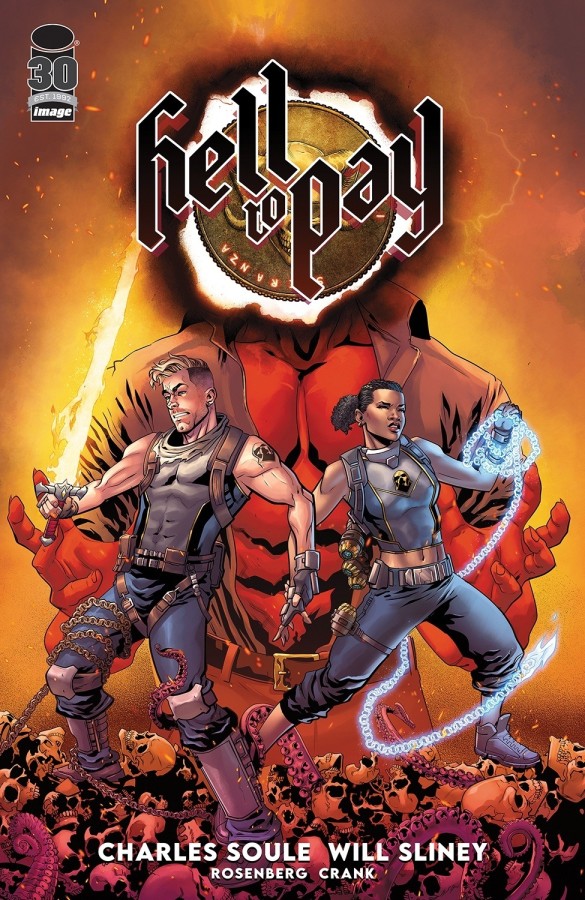 Hell to Pay #1
Image Comics
Written by Charles Soule
Art by Will Sliney
Colors by Rachelle Rosenberg
Letters by Chris Crank
The Rundown: A couple is tasked with an extremely dangerous supernatural mission.
Maia finds herself in the presence of one of the richest men in the world. A man who tries to impress her with everything rare that he has, but failing. When he finally tells her the story of how hell is real and how it really finds and collects souls, she has exactly what she needs. A coin from the depths of hell that can be used to control demons.
After calling her husband and partner Sebastian, the pair enter the home and proceed to look for the coin. After finding the coin and remembering that this is the last one they need, they discover to their horror that they have a coin each. A discovery that will complicate their leaving the mysterious Shrouded College when another complication is discovered.
The Story: An exciting, compelling and entertaining first issue with an intriguing premise that got my attention both for its stakes and with its characters. I love the world of this story and the lore being created within it. It combines great elements of action, adventure, mystery and horror in ways that kept me engaged and interested in where the story was going next. Can't wait for the next issue.
The Art: Sliney delivers some beautiful art in the issue. The hell and demon moments are stunning and I love the visual style of this issue.