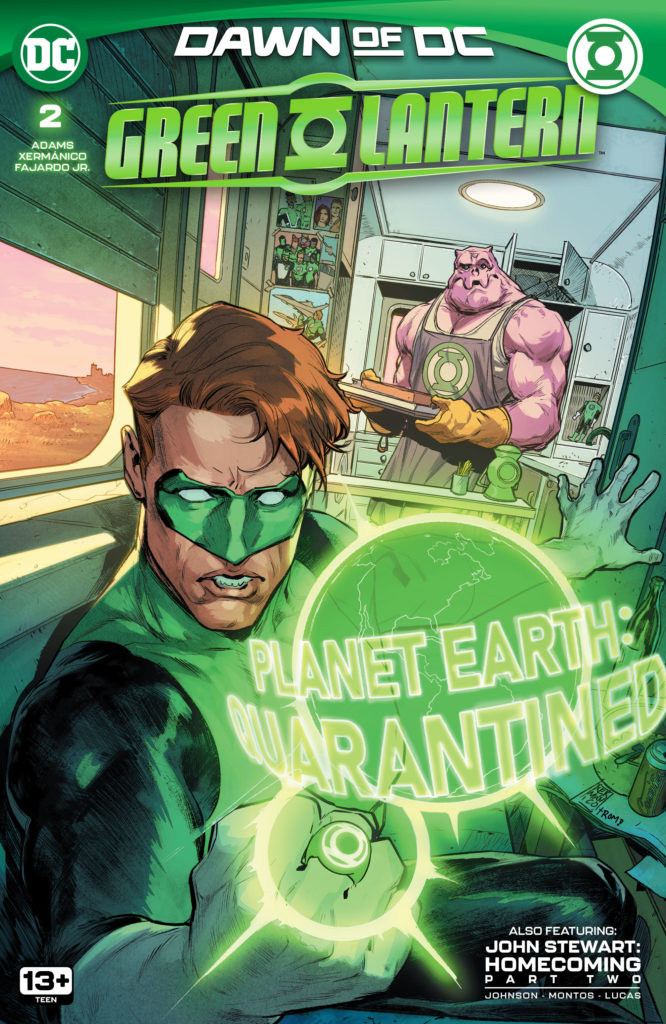 Green Lantern #2
DC Comics
Written by Jeremy Adams and Phillip Kennedy Johnson
Art by Xermanico and Montos
Colors by Romulo Fajardo Jr and Adriano Lucas
Letters by Dave Sharpe
The Rundown: Hal tries to find his purpose without the corps while John Stewart adjusts to life back on Earth.
Hal takes on a criminal in manhunter armor and discovers that he can use the power within it to create his own ring. Unfortunately, while he still has power on Earth, he finds leaving it to be next to impossible. After a conversation with his old friend Killowog, Hal decides to try a new career path. One that will bring him in conflict with Carol as well as supernatural force taking to the skies.
John Stewart is adjusting to life back on Earth and away from the corps, but his mother knows he is restless. At the same time, a lone Lantern in the skies fights a seemingly losing battle against the Revenant Queen before a familiar and unexpected face arrives to lend a hand and some power.
The Story: Adams crafts a fun and entertaining story for Hal in this issue and I love seeing him with Killowog. The dynamic between the two is fantastic and I love the fun banter they have before showcasing Hal trying to put his life back together. I love Kennedy Johnson's John Stewart story a lot and all of the dark possibilities within it. Both stories complement each other brilliantly.
The Art: Xermanico delivers some beautiful, bright and fun art filled with great details and an awesome visual tone. Montos offers some brilliantly dark and dramatic imagery mixed with the somber visual moments of John at home.