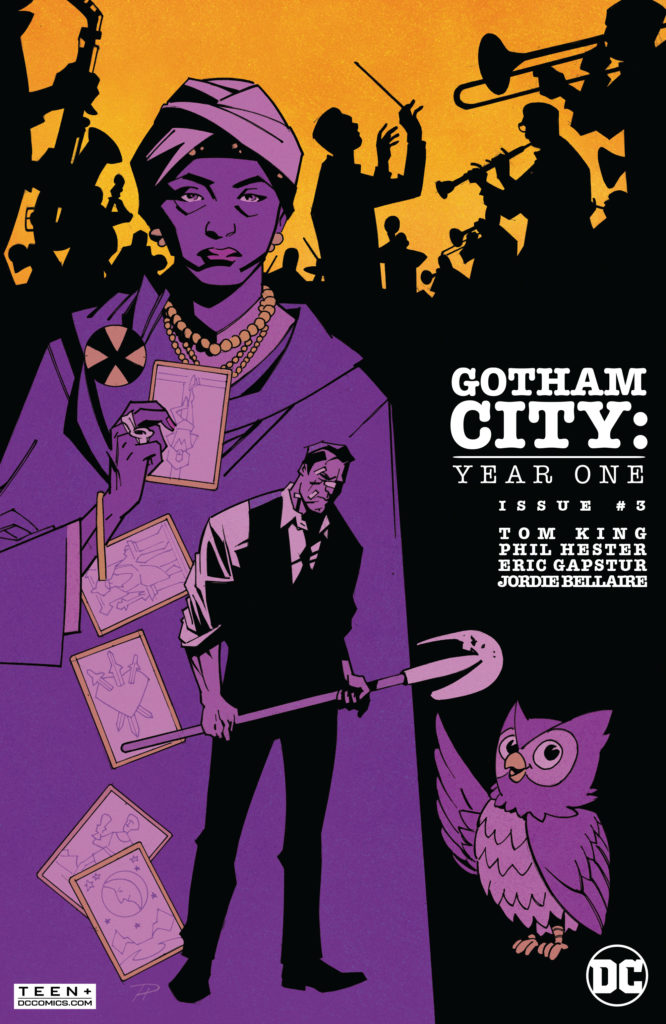 Gotham City: Year One #3
DC Comics
Written by Tom King
Art by Phil Hester
Inks by Eric Gapstur
Colors by Jordie Bellaire
Letters by Clayton Cowles
The Rundown: Sam Bradley decides to go out on his own to solve the crime of the century and finds tragedy.
The events that led Sam to leaving the police force are revealed when an overt act of corruption and police brutality forces Sam to act rashly to stop it. After taking Wayne back home, Sam returns to his office and calls it a night as he waits for the knock on the door. The next day, the knock comes in the form of Constance Wayne who is convinced that the search for her daughter is over and she wants one thing, revenge.
Using Wayne's money, Bradley takes to the streets to find the woman that took the ransom money. After utilizing all of his contacts, he gets a name and a lead on an address. After discovering something he thought might be answers, he discovers something darker. Something that will send him down an even darker road.
The Story: A brilliantly taut noir thriller that delivers not only great atmosphere, but fantastic characters. I love the world being crafted in this series and King is brilliant at getting the reader involved in the story, its characters and their layers of good and bad. I love the compelling mystery at the heart of this series and cannot wait to see where it goes next.
The Art: Hester beautifully illustrates the dark and dangerous world of Gotham City and every page and panels makes you feel like you're watching a classic detective movie. Beautifully illustrated throughout.