Ghostlore #6
BOOM! Studios
Written by Cullen Bunn
Art by Leomacs and Jakub Rebelka
Colors by Jason Wordie
Letters by Ed Dukeshire
The Rundown: The reverend finds himself in a tense situation and discovers a new power.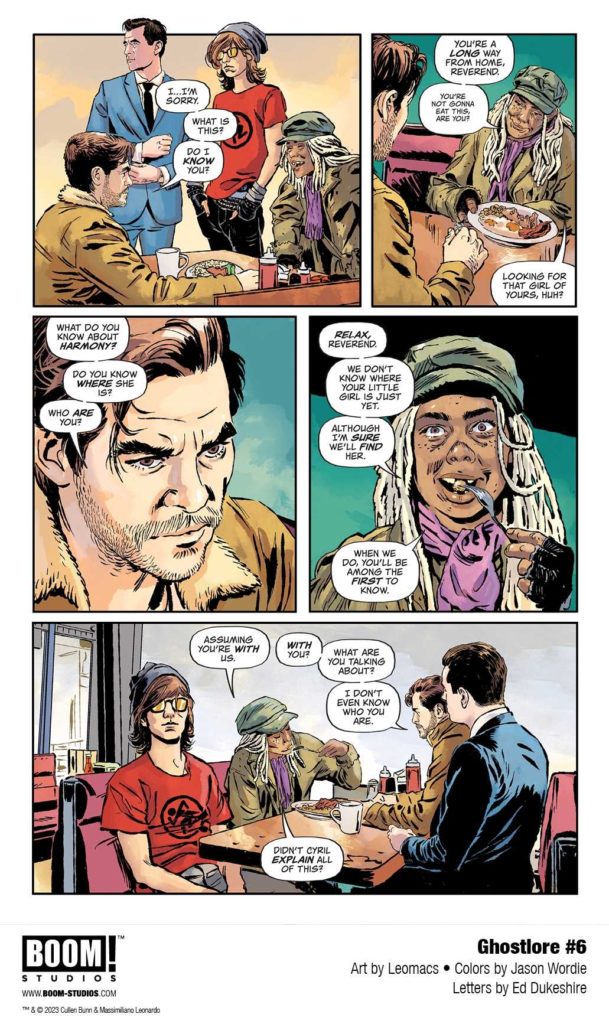 With Harmony missing, the reverend goes on a search for his daughter that will take him to a small diner. A diner that has no answers, but a trio of patrons who want to have a word with him. After revealing that they are like him, they proceed to try to kill him and everyone they can find.
Trying to escape the carnage, the reverend finds another ghost with a story to tell. A story that will reveal a power the reverend will use to save the people he can and punish the ones trying to kill him.
The Story: Bunn crafts a tense and intense story filled with action, horror and thrills. The issue has some great moments for the reverend while also building on the dark and engaging world Bunn is creating in this series. The story is compelling and delivers great suspense and thrills that kept me riveted to every moment and revelation.
The Art: Leomacs delivers some fantastic action and beautifully detailed art throughout the issue. I loved Rebelka's art in the backstory moment and how it delivers on the tone and darkness of the story.