Ghostbusters 20/20 #1
IDW
Written by Erik Burnham and Tim Lattie
Art by Dan Schoening
Colors by Luis Antonio Delgado
Letters by Neil Uyetake
The new Ghostbusters are going to be dealing with an old threat.
After their dimension hopping adventure, the new Ghostbusters squad is looking for a break. Unfortunately, Peter and Ray are going to remind the recruits that there are no breaks in the business. A sentiment that is reinforced when Mrs. Roger's house appears on a neighborhood street.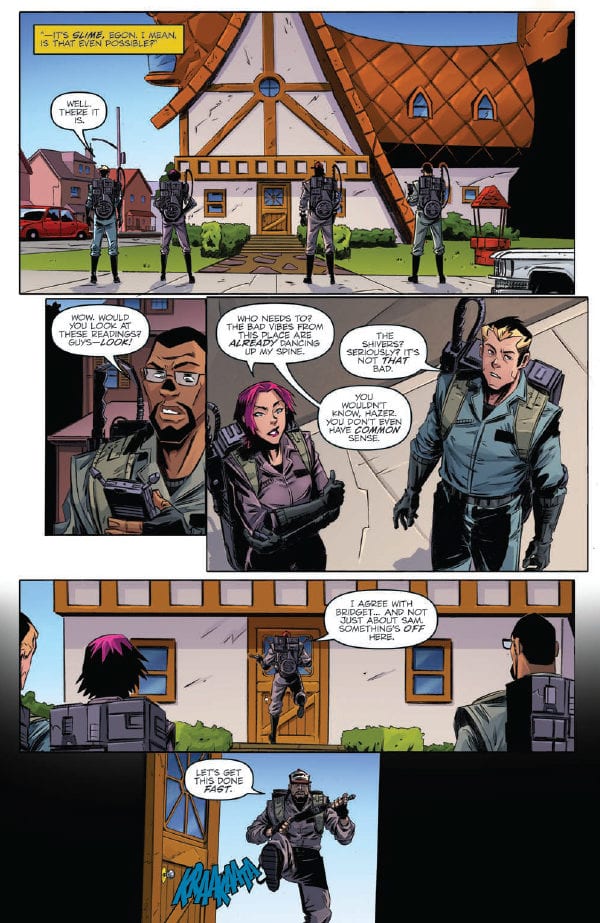 When the team goes to investigate, they find that Wat has a new plan for taking over the world and that plan will require it to get back to the firehouse and the containment unit.
In a backup story, Alan must confront one of his greatest fears when he encounters an old enemy in the basement of a home. An enemy that has a connection to his family.
The issue was fun with a lot of nods to classic ghosts from The Real Ghostbusters. Fans of the original series will definitely get a kick out of seeing the return of Wat and its new plan to take over the world. Nostalgia aside, the issue was a good read with good pacing. Not all of the jokes landed, but there was enough of a light tone to the issue that the charm of it overshadowed that problem.
The backup story was good, but it felt really short for its subject matter. Given Alan's relationship to Vigo, one would suspect that the confrontation between the two of them would have more impact. A longer story would have fleshed out that moment better.
The art is really good. There are some impressive panels and a great use of light and shadow at use. Definitely a good looking issue.