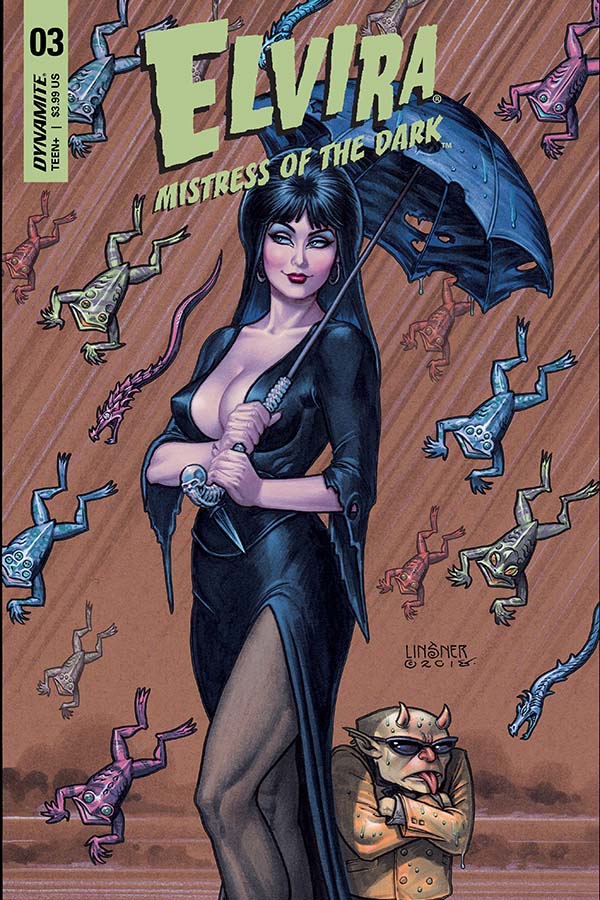 Elvira Mistress of the Dark #3
Dynamite Entertainment
Written by David Avallone
Art by Dave Acosta
Colors by Andrew Covalt
Letters by Taylor Esposito
Elvira's journey through literary history has brought her face to face with Dracula author Bram Stoker and his angry and annoyed wife. As she tries to get them to help her seal off the coffin, Vlad the Impaler emerges and immediately sets his sights on Stoker's wife to be his bride. Unable to stop the vampire, Vlad flies off with the enthralled woman in his arms.
Elvira and Bram get to work trying to find a way to stop Vlad before he turns Stoker's wife and their classic vampire killing solutions only seem to make him mad. Faced with sacrificing Bram Stoker's wife and losing her own, Elvira decides to take a third option designed to end this game once and for all as well as flush out the person moving she and Vlad through time.
Avallone continues to write a fun and funny story for Elvira. All of the dialogue is top-notch with all of the wit and charm that Elvira is known for. Even when faced with adversity, Avallone continues to give Elvira purchase and mastery of her moment and situation. She's never presented as a damsel in distress and it is a testament to the writing that they don't feel the need to shoehorn in a male character to rescue her. Elvira is allowed to be smart, funny, self-aware and in control in this series and this issue.
Acosta continues to impress with the amazing art in this issue. All of the characters look amazing, especially Elvira, and the backgrounds all look great as well. The composition of the panels that Acosta uses helps the flow of the story and complements the pace of both the action and the humor.