Elvira in Monsterland #5
Dynamite Entertainment
Written by David Avallone
Art by Kewber Baal
Colors by Walter Pereyra
Letters by Taylor Esposito
The Rundown: Elvira has a final showdown with Vlad and his army of monsters.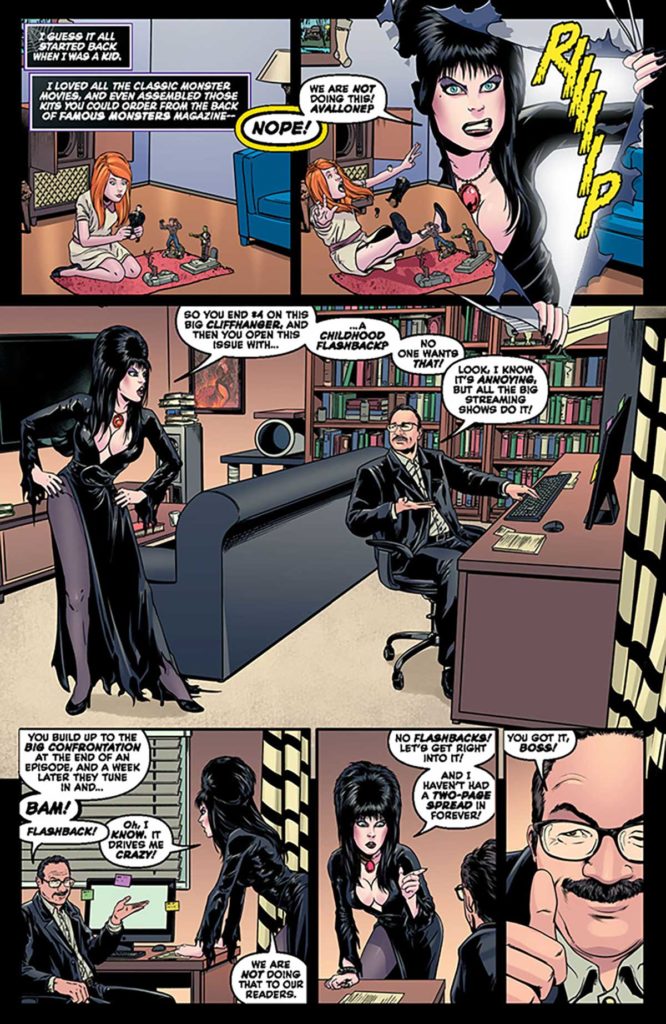 After a hilarious intervention with the writer, Elvira finds herself back on the island and facing off against Vlad and another enemy. In order to stall for time, Elvira decides to vamp and give them time to monologue their entire plan.
With the world at stake, Elvira gets some unexpected cinematic help in the form of some familiar faces. Hopefully, they will help her end the multiversal threat once and for all and get her back to her own reality.
The Story: Avallone brings this story to an action packed, hilarious conclusion filled with great action and adventure. I love the humor of this series and how the references work perfectly as narrative device and satire. Elvira continues to be a fantastic and fun character and everything that Avallone does with her in this series is awesome. I also love the self-insert he delivers in the story and how it skewers a common and often annoying trope in modern media. A fantastically fun, inventive and engaging story from start to finish.
The Art: Baal delivers some beautiful art throughout the issue. Not only are the visuals fun and beautifully detailed, but they deliver some genuinely funny visual gags that made me laugh out loud.