Eat the Rich #4
Boom! Studios
Written by Sarah Gailey
Art by Pius Bak
Colors by Roman Titov
Letters by Cardinal Rae
The Rundown: Joey has become part of the family, but what will that mean for her life going forward.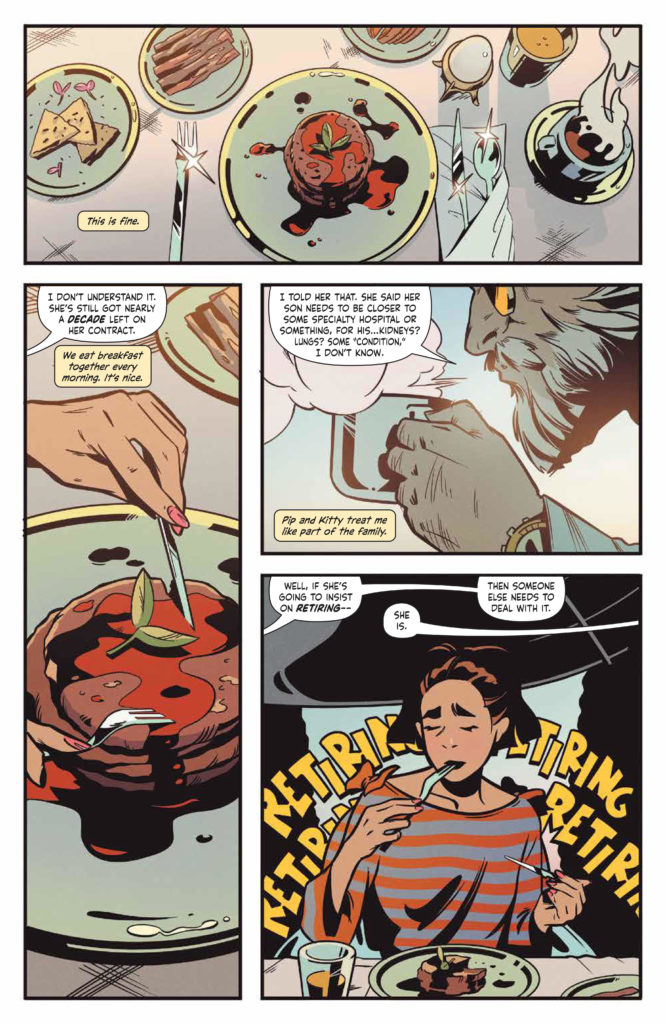 After speaking with Astor's mother and discovering that she is now constantly hungry after the party, Joey is worried that she can never leave. She is also worried for and about Astor after he becomes more and more withdrawn. As she begins to settle into life with his family and resolves what they do, she finds herself unable to think of anyone to talk to other than Petal.
While getting ready for another party and having Astor disappear again, Joey heads to the beach to clear her head and Petal finds her. After telling her everything that she's been feeling for the entire summer, she and Petal continue to get closer as each reveals more about what they've learned and what led them to the choices they made. A conversation that makes Joey question everything, including her relationship with Astor. Things get more complicated when Joey makes a choice that puts her in opposition to Pip right before Astor does something dramatic.
The Story: I enjoy how brilliantly complicated and unique this story is. Gailey continues to make a compelling and entertaining story in this issue. The story has some great character moments throughout and there is great character development for Joey. I really enjoyed the momentum of the story and it ends with an interesting and funny cliffhanger.
The Art: Pius Bak hits the right notes visually for this story. The moments between Joey and Petal and drawn beautifully and highlight the characters while the moments between Joey and Astor brilliantly showcase the emotional divide between them by highlighting their physical divide.