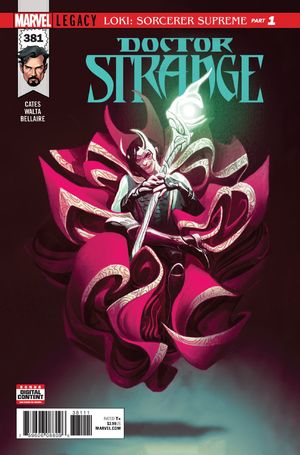 Doctor Strange #381
Marvel Comics
Written by Donny Cates
Art by Gabriel Hernandez Walta
Colors by Jordie Bellaire
Letters by VC's Cory Petit
Loki: Sorcerer Supreme Part One
177A Bleeker St is under new management and because the new owner does not like walk-ins, the building is floating about twenty feet off the ground. Doctor Strange's new assistant Zelma has brought a client to see him and must use an unconventional means of getting into the building. As she takes the new client through the house, he comments on the talking snakes and locked rooms that someone is desperate to get into. The client is desperate for help and he confronts Zelma about the location of the Sorcerer Supreme; Loki.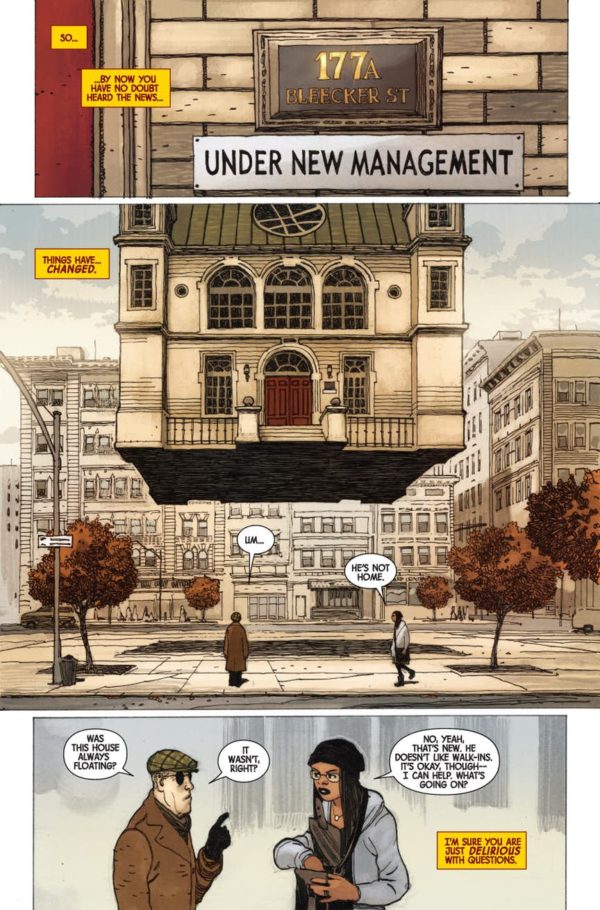 Stephen explains what happened and that the circumstances of Loki's new role involve a tournament, Strange handing over the mantle and complimenting the God of mischief of not doing a bad job so far. A sentiment not shared by the group of magical beings that Loki finds himself drinking with. Wanda confronts him regarding the lies in his latest story and the confrontation leads to Loki attempting to convince the room that the rules and price should be lifted from the use of magic. It doesn't go over well.
In the aftermath, Loki takes some time to consider his recent actions and how they are not being well received when the new Sorcerer Supreme is visited by someone who is not a fan; Thor. As Loki pleads with Thor regarding his desire to change, Thor is unimpressed and her candor leads to Loki to show Thor something that only the true Sorcerer Supreme could while at the same time Wanda confronts Stephen about his decision as well as his new vocation.
Cates does a great job in this issue of crafting a narrative that is both fun and interesting. It is fun to see Loki confront his new responsibility with humility while still trying to find the angles he can exploit. Stephen's new role provides  some grounding emotional resonance and it will be interesting to see what the next encounter between Strange and Loki will look like. Walta's art is fun and I enjoyed the tones of the colors in contrast to other comics. I can't wait to see what happens next.