DIE #3
Image Comics
Written by Kieron Gillen
Art by Stephanie Hans
Letters by Clayton Cowles
The players almost immediately regret taking a shortcut through an active battlefield.
Ash and his friends are on the run and scrambling to find cover from the onslaught of a fire-breathing dragon that has targeted them. Their decision to avoid confronting their own pasts has resulted in them falling into the middle of a war zone.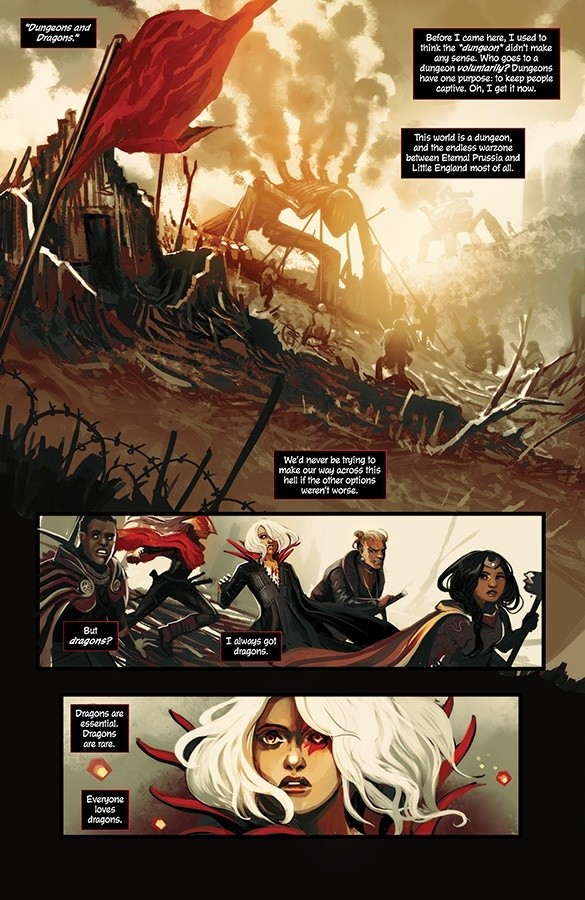 A war zone with casualties that are piling up all around them and dangers that are becoming more real with every hit and injury.
As the battle rages on, Ash is forced into one of the trenches where he comes upon a group of warriors dealing with the realities of the war. Ash is surrounded by the dying and listening to tales of family, love and loss. He begins to think of his own life in the real world as Matt arrives and tells Ash they need to try something desperate and painful if they are going to survive this battle and destroy the dragon.
Kieron Gillen has taken a fantasy setting and captured the futility and tragedy of war. The dialogue and rising tension are amazing. All of the character interactions feel natural and the tone of the issue is perfect. There's no awe or wonder in this world because the characters have only one motivation, escape. It's going to be interesting to see the contrast from their point of view as kids to now. Did the world look and feel different to them when they first arrived?
Stephanie Hans' art is absolutely sublime in the issue. The art is both beautiful and ominous with amazing and haunting detail. Every page is visually delightful with a story epic in scale and emotion.