Detective Comics #1041
DC Comics
Written by Mariko Tamaki and Matthew Rosenberg
Art by Dan Mora and Darick Robertson
Colors by Jordie Bellaire and Diego Rodriguez
Letters by Aditya Bidikar and Rob Leigh
The Rundown: Batman finds himself facing a new threat calling itself The Jury.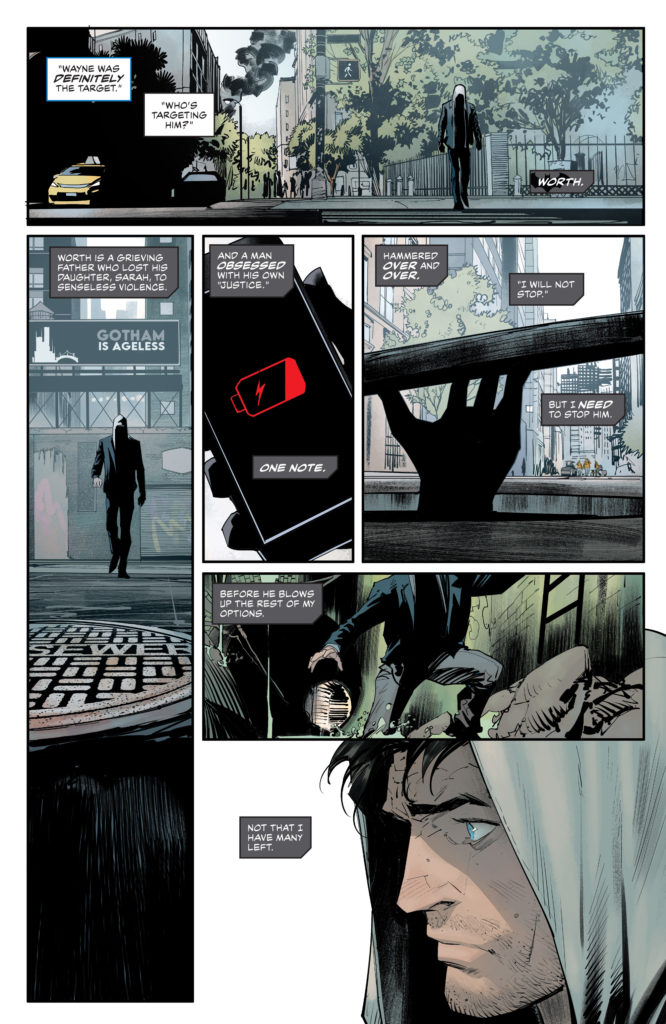 Mayor Nakano learns more about the infection that is affecting the people of Gotham. As he looks for his assistant Vile, he learns more about the corruption that allowed for the release of Worth from custody. Bruce Wayne finds himself running out of options as his apartment has been burned down and his satellite cave destroyed. After finding another stash of gear, he confronts Worth and Penguin and their new group The Jury.
Reporter Deb Donovan is on the trail of a new story. One that will bring her to the morgue based on a mysterious note she receives. After discovering the bodies of two of Batman's enemies and the missing body of another, she finds herself the victim of a potential mugging and a rescue from the Dark Knight who warns her about the story she's pursuing. When she returns home, she discovers that she's not alone.
The Story: Tamaki continues to craft a compelling and dark story for both Batman and Bruce Wayne in this issue. There are great character and action beats throughout and I enjoy how the story builds and evolves. The darkness of the circumstances can be rough at times, but Tamaki has invested me in this story and I want to see where it goes next. Rosenberg grabbed my attention with the Deb Donovan story and both her personality and investigation have gotten my attention.
The Art: Mora continues to be one of my favorite artists and this issue showcases his command of the character, emotion and details needed to immerse the reader in what is happening to the characters. Robertson does great work with the Donovan story and the style of the art is perfect for its gritty subject matter.