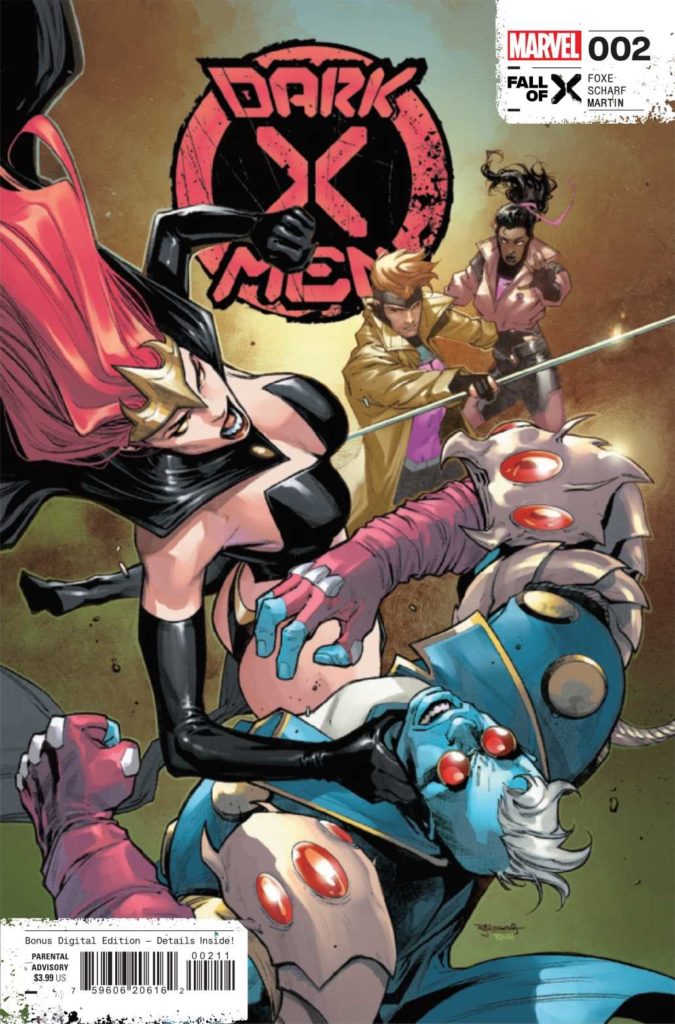 Dark X-Men #2
Marvel Comics
Written by Steve Foxe
Art by Jonas Scharf
Colors by Frank Martin
Letters by Clayton Cowles
The Rundown: Madelyne deals with the team's strife while Orchis prepares a new threat to mutants.
Madelyne fights using all the dark magic she can to save a dying Alex Summers while Maggott rails against them leaving Angel behind. While the team deals with their own issues, two off-the-books members of Orchis decide to use a new asset for the next part of their plan, a Madelyne Pryor from another universe.
When Madelyne decides to use her dark arts to find more mutants in trouble, she and her team go into action. Unfortunately, splitting them up to find and help the missing Morlocks will reveal a new and familiar threat created by Orchis.
The Story: An enjoyable, action-packed adventure filled with a great, dark tone. The premise continues to be intriguing because every element of it is rife with conflict both internal and external. I like seeing a contrast between Madelyne Pryor and the Goblin Queen and it will be interesting to see how and when they finally clash. This is definitely a dark series and the dark surprises make me excited to see where it goes next.
The Art: Scharf skillfully delivers on the dark elements of the story with art that is stark and beautifully detailed. The imagery wonderfully plays into the dark and dangerous elements of the story.