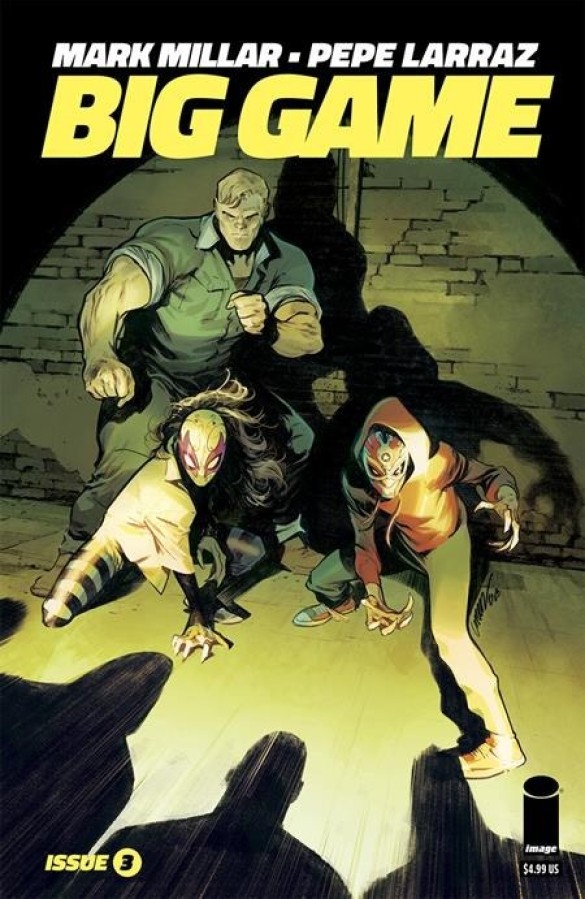 Big Game #3
Image Comics
Written by Mark Millar
Art by Pepe Larraz
Colors by Giovanna Niro
Letters by Clem Robins
The Rundown: As more heroes fall to the Fraternity, an unlikely hero could be their only hope.
More heroes find themselves falling into traps set by the Fraternity and not even the vampire members of the Night Club are safe from attack. As more heroes fall, Dave aka Kick-Ass gets a notification that heroes are needed and decides to suit up again to help.
At the same time, Eggsy and Hit-Girl infiltrate the Fraternity headquarters and discover a part of their plan. A part that might be the only way Mindy survives her encounter with Wesley Gibson.
The Story: Millar has crafted one of the darkest parts of this series yet and I loved every action-packed, ultra-violent moment of it. The story continues to get more interesting as the winning faction of villains get more creative with their traps and means of execution. Amongst the terror Millar is creating in this issue, there is hope in the form of Hit-Girl and I love how she is being utilized in the story. The end of the issue not only created great cliffhangers for both Mindy and Dave that I can't wait to see explored.
The Art: Larraz delivers some insanely beautiful art throughout the issue. The violence is visceral and the character designs are fantastic. All of the action is visually stunning.