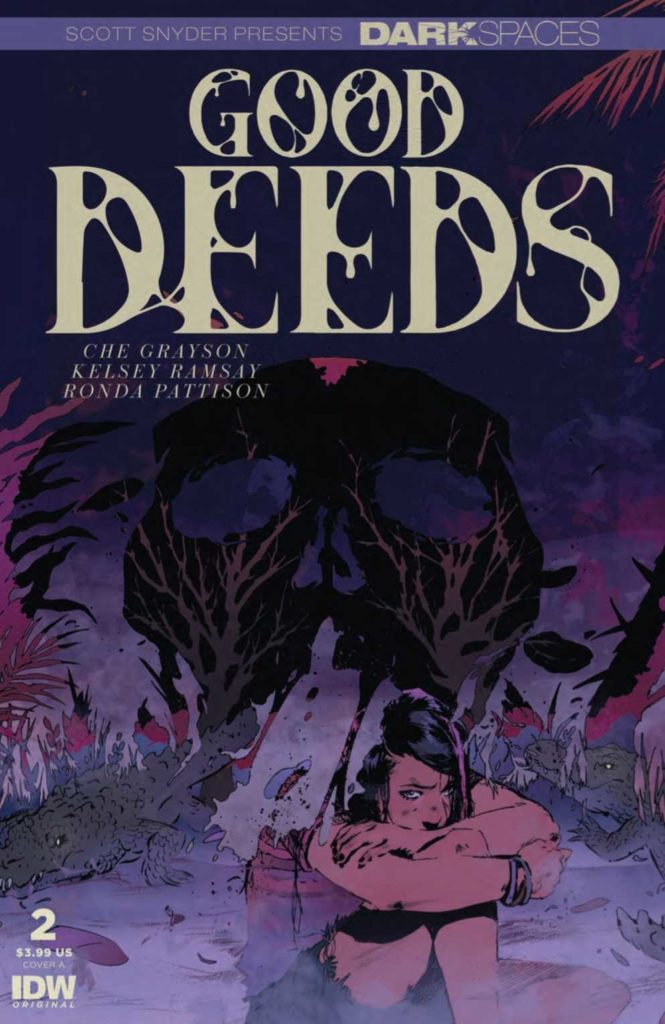 Dark Spaces: Good Deeds #2
IDW Publishing
Written by Che Grayson
Art by Kelsey Ramsay
Colors by Ronda Pattison
Letters by Rus Wooton
The Rundown: Jean finds a new story while Cheyenne finds a long buried town secret.
Things are getting tenser in town in the aftermath of one of the elite powerful men of the area in the diner now owned by Rebecca and her daughter Cheyenne. Jean is on the scene and wades through the onlookers to try and talk to Cheyenne before being interrupted and heading back to her hotel to deal with her own personal demons.
As Jean finds herself on the verge of a new story when she gets a mysterious text from someone not attending the town meeting, Cheyenne finds herself with a group of new friends who bring her out one night and discover something buried beneath the town that could put them all in danger.
The Story: Grayson is crafting an intriguing mystery in this series and this issue has some great character building as well as building up the tension to keep the reader engaged. I like all of the characters and the slow burn of the mystery even as strange things are happening to the main characters. I want to know more about the circumstances that brought them to the town in the first place and Grayson does an awesome job of building on those things while keeping me interested in the characters themselves.
The Art: Ramsay creates some beautifully detailed and vivid art throughout the issue. The visual style allows for great character moments along with visual terror.