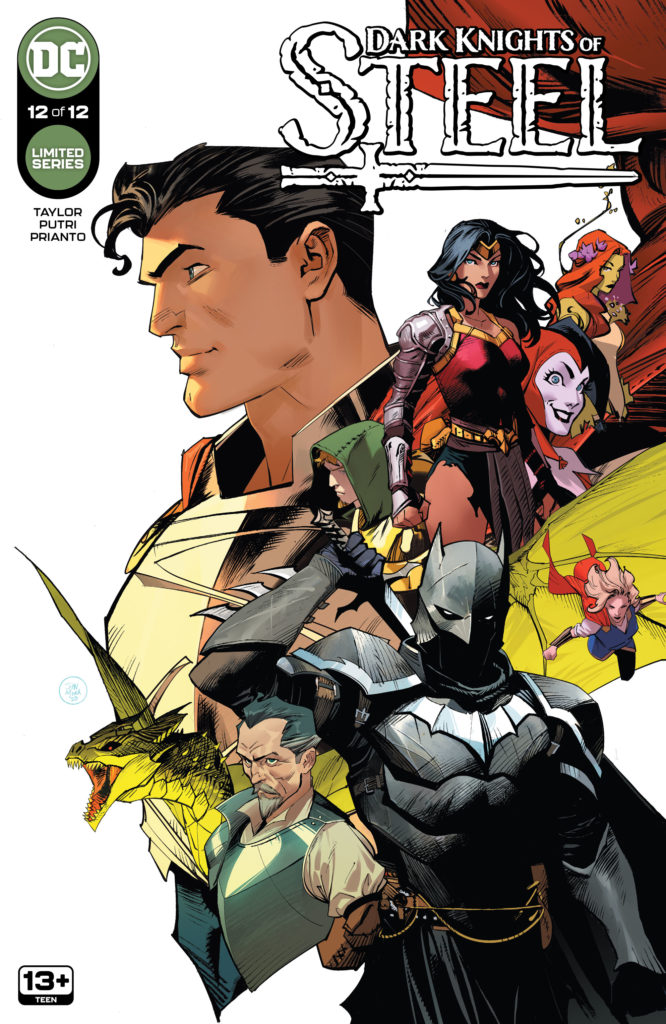 Dark Knights of Steel #12
DC Comics
Written by Tom Taylor
Art by Yasmine Putri
Colors by Arif Prianto
Letters by Wes Abbott
The Rundown: The three kingdoms work together in order to stop a powerful enemy.
The story opens with a revealing conversation between Waller and Protex. Meanwhile, in the Kingdom of El, advisors from the three kingdoms share their newly created plan for dealing with their adversaries. Soon the battle begins, and a unified planetary presence take on Protex's invading army. Afterwards, Waller gives a stunning report of the battle activities she participated in, and finally a new alliance is formed.
The Story: The finale of the limited series ends with the formation of a familiar organization and the potential to create future tales set in this universe. As always, Taylor does an excellent job of providing unique twists and surprises without confusing or overwhelming the audience. I really appreciated how each character used their strengths in a way that was both familiar and innovative. Waller stayed true to the character that fans know well, while protagonists such as Harley and Ivy used their brains and ability in similar manner. Overall, I really enjoyed this series. This alternate universe was immaculately constructed. The pacing was well done, and I am particularly impressed at the cohesive ending. Well done to the creative team!
The Art: This issue contains brilliantly crafted action scenes that are fully immersive. The classic illustrations focus on both character and scenery in detailed, realistic form. Every page is both emotionally engaging and tonally supportive of the tale.