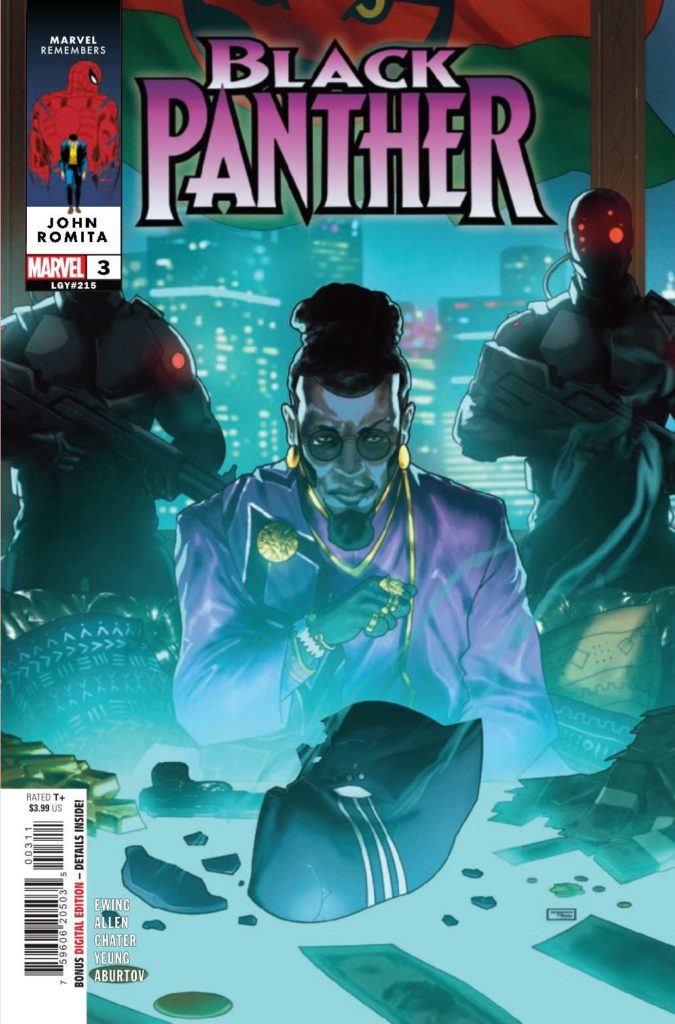 Black Panther #3
Marvel Comics
Written by Eve L. Ewing
Art by Chris Allen and Mack Chater
Inks by Craig Yeung and Mack Chater
Colors by Jesus Aburtov
Letters by Joe Sabino
The Rundown: T'Challa discovers a potential threat as two powerful families in the city prepare to join forces.
T'Challa confronts the thief that has managed to elude him and the pair come to an understanding as T'Challa listens to the woman and understands what is happening with the underworld in the city. When he learns about a series of kidnappings, he enlists the woman's help in investigating the crimes.
When the pair learns that two powerful families are uniting through marriage, the pair decide to crash the party to get information. Unfortunately, the arrival of Deathlok will prompt the Black Panther to make a more public appearance in order to stop anymore bloodshed.
The Story: The plot has some interesting moments for the character and an intriguing ending that got my attention. Beyond that, I continue to find myself waiting for something interesting to happen to T'Challa and it hasn't yet. This arc feels like a rest stop on the road because there aren't any real stakes for the character within it. Taking to the streets at night like Batman doesn't feel right and there aren't enough compelling things about his mission to make it necessary. The side characters are fine, but the overall arc is becoming boring and tedious.
The Art: Allen and Chater deliver some great looking art in the issue. The visuals are great and do a wonderful job of highlighting the glamour and splendor of Wakanda, but not much else.