Daredevil #1
Marvel Comics
Written by Chip Zdarsky
Art by Marco Checchetto and Rafael De Latorre
Colors by Matthew Wilson
Letters by Clayton Cowles
The Rundown: Daredevil prepares for a new journey, but his past continues to plague him.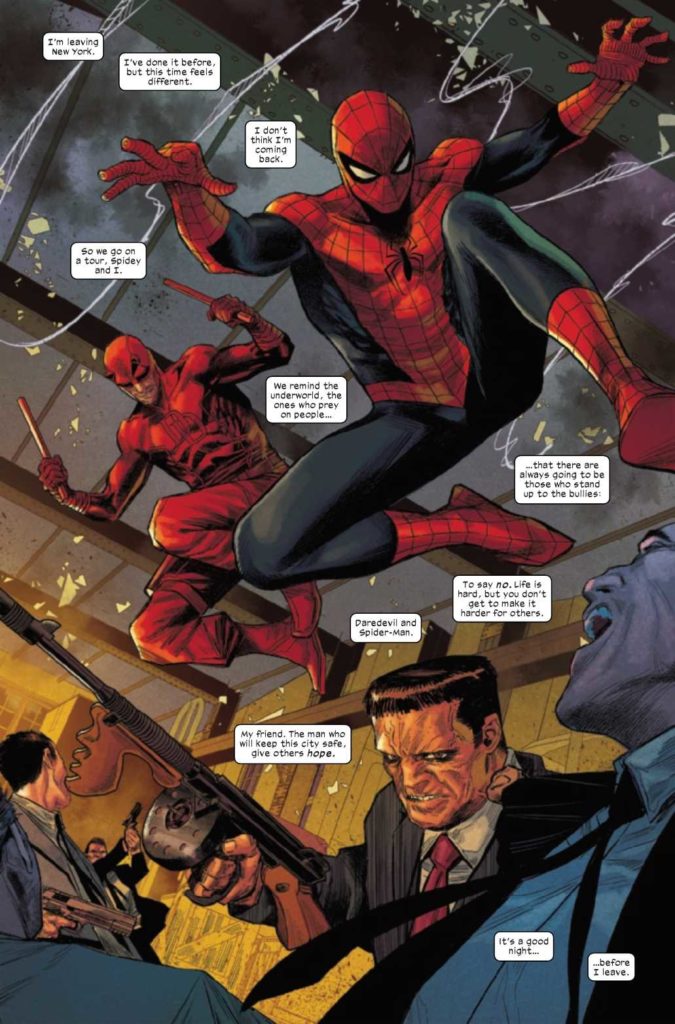 Matt is preparing to leave New York, but he first has some personal business to attend to. Personal business that will bring him face to face with the son of the Kingpin, but he has backup in the form of Spider-Man. As he gets ready to say good-bye to an old friend, he is confronted by the man who prosecuted him. A man with a secret of his own that is explosive.
At the same time, Elektra has arrived at her new location and finds herself ace to face with Stick. After some verbal sparring about the mission they're about to begin, the physical sparring starts. They're fight is interrupted by the arrival of soldiers and Elektra has to deal with her former mentor's decision to kill.
The Story: Zdarsky begins a dark and entertaining new chapter for Matt and Elektra. The story has a wonderful tone and I love the moments between Matt and Peter. The story has a wonderful transition between Matt's journey and Elektra's. The rage that Elektra tries to keep at bay is wonderfully done in her interactions with Stick and I am excited to see where this story goes next.
The Art: Both artists bring some beautiful, dynamic and brilliantly detailed visuals to every page of this issue. The action is thrilling and the characters look amazing.