Cosmic Ghost Rider #2
Marvel Comics
Written by Donny Cates
Art by Dylan Burnett
Colors by Antonio Fabela
Letters by Clayton Cowles
A few hours after trying to murder an infant Thanos in his crib, Frank Castle has decided to ride this wagon train of ridiculousness straight into the unknown by taking the infant with him. They find themselves in a bar (because why not) on a distant planet where Frank is waiting for someone. After getting into a heated exchange with the bar manager, Frank finds himself trying to keep little Thanos away from his base instincts. A prospect that is getting harder by the moment with the little tyke asking questions about murder and getting ready to shank someone with a broken bottle.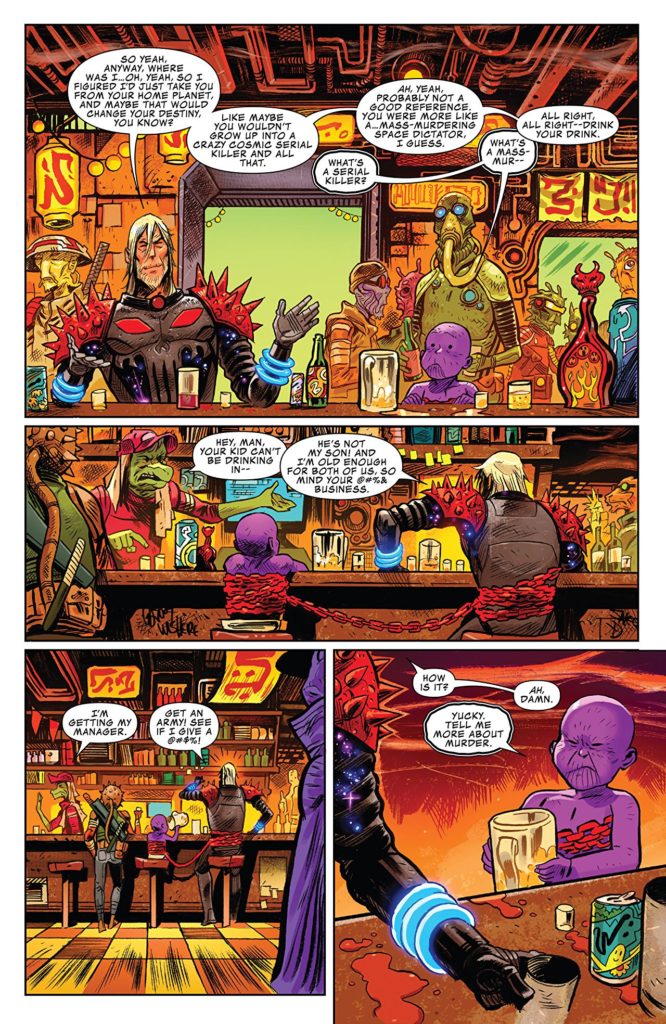 Eventually, the person Frank has been waiting for shows up in grand fashion when Galactus arrives to devour the planet. Frank decides to pay his old friend a visit and appeal to him to help his former herald find a way to change Thanos before he becomes the monster he is. It's an interesting exchange between the two and showcases a pretty unlikely kinship. Unfortunately, this back and forth brings someone else into the picture. Someone with a warning that we all know is not going to be heeded and consequences that lead to the introduction of the new Guardians of the Galaxy.
After the seriousness of the Thanos story, it's fun reading something that takes those dark elements and shines an interesting type of light on them. He doesn't gloss over the despot that Thanos will become and makes the nature of Thanos apparent even at a young age. It's more fun to see a Frank Castle with centuries of experiences and memories dealing with this new dynamic. The way he seems to go about life now is more interesting. Cates has taken the battle weary anti-hero and made him a layered character trying to find a place and a mission in the future. What makes the story even more compelling is that Cates is not afraid to try something new or lean into the insanity enough so that you want to follow him where he's leading you as a reader.
Dylan Burnett's art is great in this issue and there are so many amazing panels and details that the viewer can't help but take everything in visually. The vibrant colors and shadows enhance the art in a noticeable way and the facial expressions Burnett uses on many of the characters are fun.