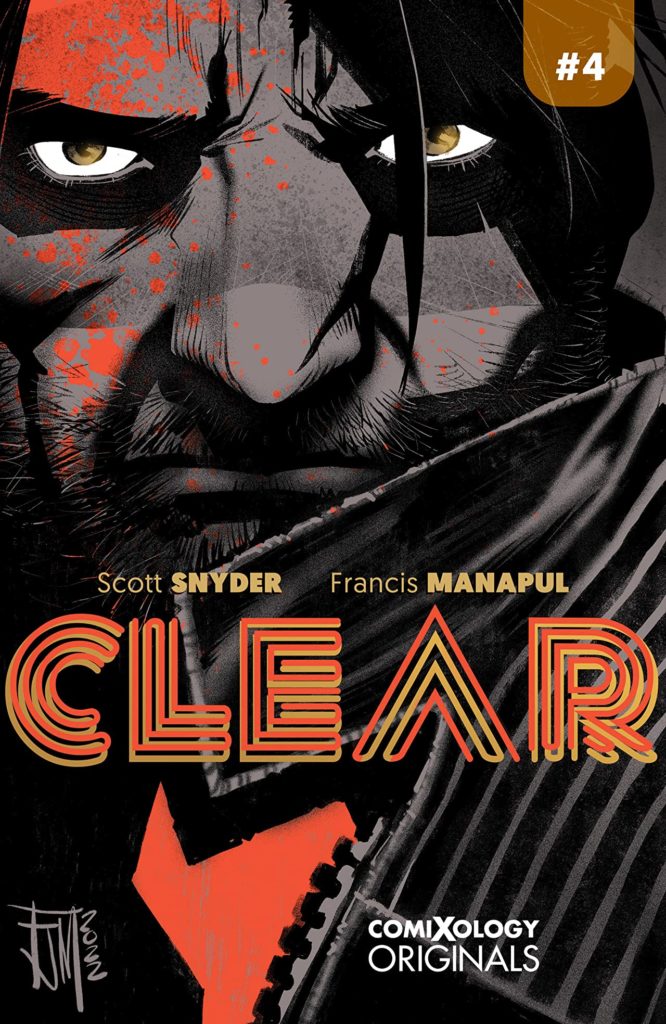 CLEAR #4
Best Jackett Press
Written by Scott Snyder
Art by Francis Manapul
Colors by Francis Manapul
Letters by Andworld Design
The Rundown: Sam discovers more about his wife during his investigation and takes a dangerous path to learn her secrets.
Sam finds himself in the fight of his life with a man that not only shares his face, but seems to know intimate details about the death of his wife among other things. As their fight escalates, Sam demands answers, but the intervention of Collins on the scene not only leads to his main suspect fleeing the scene but the loss of his only possible friend. A loss that will paint a target on the back of Sam Dunes.
Sam returns to his place and finds it crawling with police. With nowhere else to go, Sam heads somewhere he might be safe while a clue from the killer jumpstarts his memory. After having another run in with people who want him dead, he learns of another connection to his wife and the only time he ever used a veil. With the pieces starting to come together for him and the police on his tail, Sam will have to take a leap of faith if he wants to get the answers he seeks.
The Story: Snyder delivers a rich and moving noir detective story in this issue. There are great moments of action and mystery, but what really captures the imagination of the reader is the emotional story. Sam's story is compelling and the mystery in the plot is compelling as well because of its connection to his wife and what he's lost. Snyder does a great job of bringing out the emotion of a moment and connecting it to something tangible.
The Art: Manapul delivers some amazing visuals throughout this issue. The style is perfect for this story and it brilliantly captures the dark, gritty style of a detective story, but there are moments of beauty and wonder to be found in the imagery as well.