Ubisoft announced a new Assassin's Creed game that will take players back to the origins of the Assassin's Brotherhood.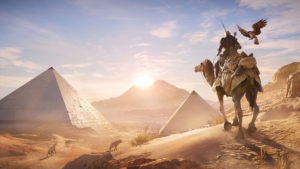 All cards on the table, I am a HUGE Assassin's Creed fan. I have played every game and love the overall arc of the story. That being said, the announcement of a new Assassin's Creed game has gotten me excited. More so because I was not expecting it this year during E3. The last information I had was that Ubisoft would be holding off from making any new IP for a while.
Assassin's Creed Origins takes players back to ancient Egypt where you play as Bayek. Tasked with keeping order in the cities of Memphis and Alexandria, Bayek uses his skills to end threats corrupting Egypt. Eventually he will use his skills and training to create the Assassin's Brotherhood. Bayek will also utilize his trained hawk as a means of scouting the area, which will not have the traditional towers that many Assassin's Creed games utilize. The teams at Ubisoft Montreal has also overhauled the combat system as well that will boast new attacks and combos for players to utilize.
The game is also visually stunning with the trailer and gameplay trailers shown in 4k during the presentation.
Assassin's Creed Origins has a release date of October 27, 2017 for XBOX, PS4 and PC.
@superpoweredfan on Twitter