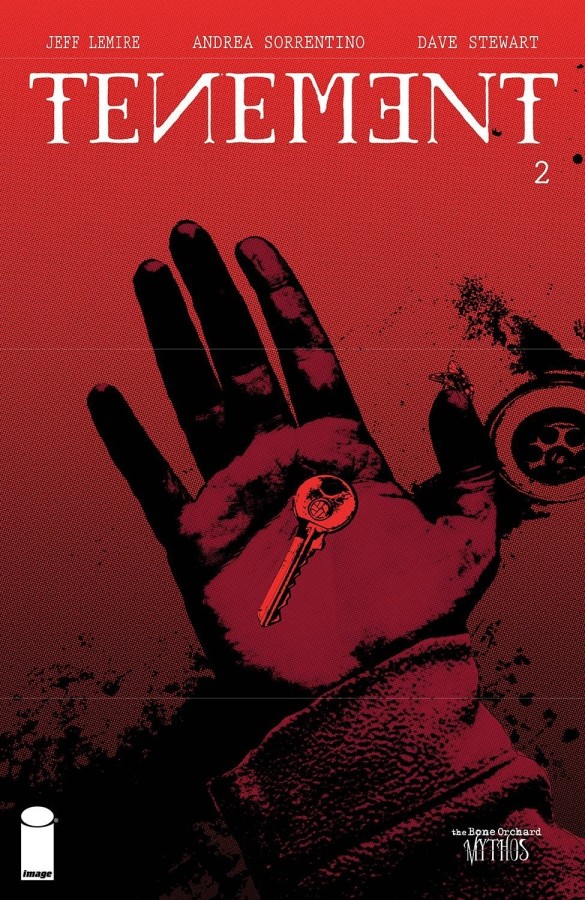 Bone Orchard: Tenement #2
Image Comics
Written by Jeff Lemire
Art by Andrea Sorrentino
Colors by Dave Stewart
Letters by Steve Wands
The Rundown: The residents of the building discover that there are other worlds than the one they know.
In the wake of the death of one of the residents, the rest of them find ways to cope. While some seek comfort in each other, others try to fix the broken things in their lives that they are the cause of. At the same time, Isaac finds things more difficult as he struggles with the key he was left by the recently deceased neighbor and what he needs to do with it.
As things get more intense for the residents of the building, a light shakes them out of their interpersonal conflicts and plunges them into a nightmare world where the only way out of the building seems to be a staircase into darkness.
The Story: Lemire ramps up the tension and crafts a wonderful slow burn to a fantastic and darkly interesting reveal. I appreciate the story for giving the reader time to get to know the characters as the threat they face slowly reveals itself in the background. I like the unpredictable nature of the plot and look forward to seeing how the rest of the story plays out.
The Art: Sorrentino delivers some beautifully dark and hauntingly detailed imagery throughout the issue. Every page of the story has something new and interesting to look at.