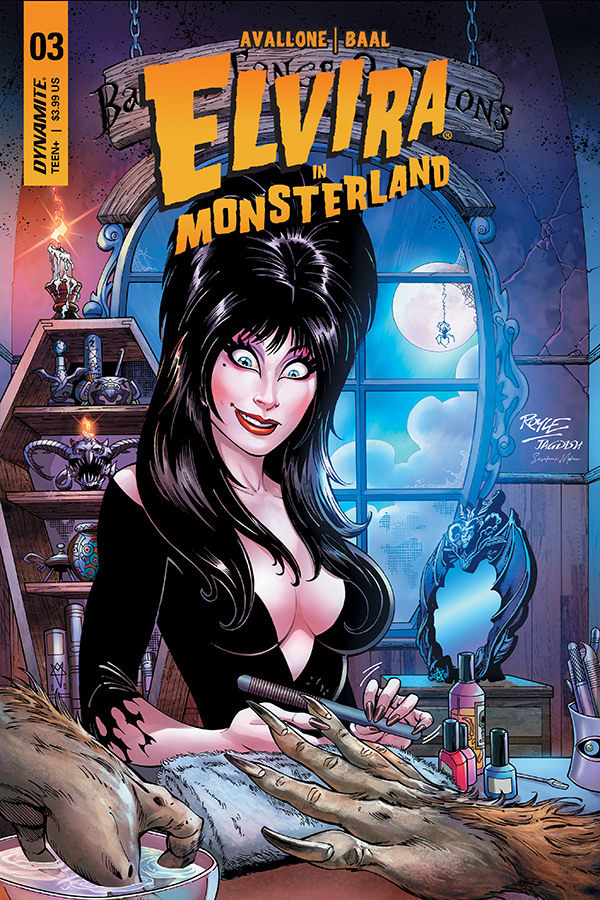 Elvira in Monsterland #3
Dynamite Entertainment
Written by David Avallone
Art by Kewber Baal
Colors by Walter Pereyra
Letters by Taylor Esposito
The Rundown: Elvira tracks Vlad through a series of werewolf movies to disrupt his plans.
Elvira finds herself in the moors of London trying to rescue two American hikers from a grisly attack. Unfortunately, Vlad arrives just in time to take the creature with him. Elvira's next move is to follow him through a series of werewolf-based horror movies that span all genres including a teenage werewolf who just wants to play basketball to a couple of middle-aged ones fighting over a woman.
After changing up her mission, Elvira finds herself in the lair of the man in charge and discovers it's a familiar face before Vlad escapes again and Elvira finds herself in a kaiju nightmare.
The Story: Avallone delivers a fun, funny and entertaining story in this issue. The comedy is top tier and filled with some great inside jokes for fans of both the character and the worlds she is traveling through. I love the change in direction as well as how the story is expanding and creating a new experience for fans of the arc. I look forward to every issue of this series and the laughs and nostalgia that they bring.
The Art: Baal transports me back to some of the best and worst films I loved in the werewolf genre. The character depictions are perfect, and I love the visual vibe of this issue.