Marvel's next feature film in its Marvel Cinematic Universe will be Thor: Ragnarok this November, but coming next year the MCU will kick off with Marvel's Black Panther slated for release in February.
With that in mind, Marvel has released the first poster for the film starring Chadwick Boseman today and we will get our first look at footage from the Ryan Coogler directed film tonight with the release of the teaser trailer for the film during this evenings NBA Finals.
The poster shows Boseman's T'Challa sitting on the throne of Wakanda looking every bit the bad ass he portrayed in Captain America: Civil War. The film will follow the newly crowned King of Wakanda as he battles forces both external and closer to home as he settles into the role of ruler and hero.
Black Panther also stars Michael B. Jordan, Lupita Nyong'o, Martin Freeman, Angela Bassett, Forest Whitaker, Sterling K. Brown and Andy Serkis.
After the events of Captain America: Civil War, King T'Challa returns home to the reclusive, technologically advanced African nation of Wakanda to serve as his country's new leader. However, T'Challa soon finds that he is challenged for the throne from factions within his own country. When two foes conspire to destroy Wakanda, the hero known as Black Panther must team up with C.I.A. agent Everett K. Ross and members of the Dora Milaje, Wakanadan special forces, to prevent Wakanda from being dragged into a world war.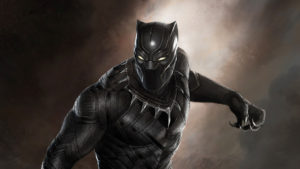 Black Panther leaps into action February 16, 2017
@superpoweredfan on Twitter