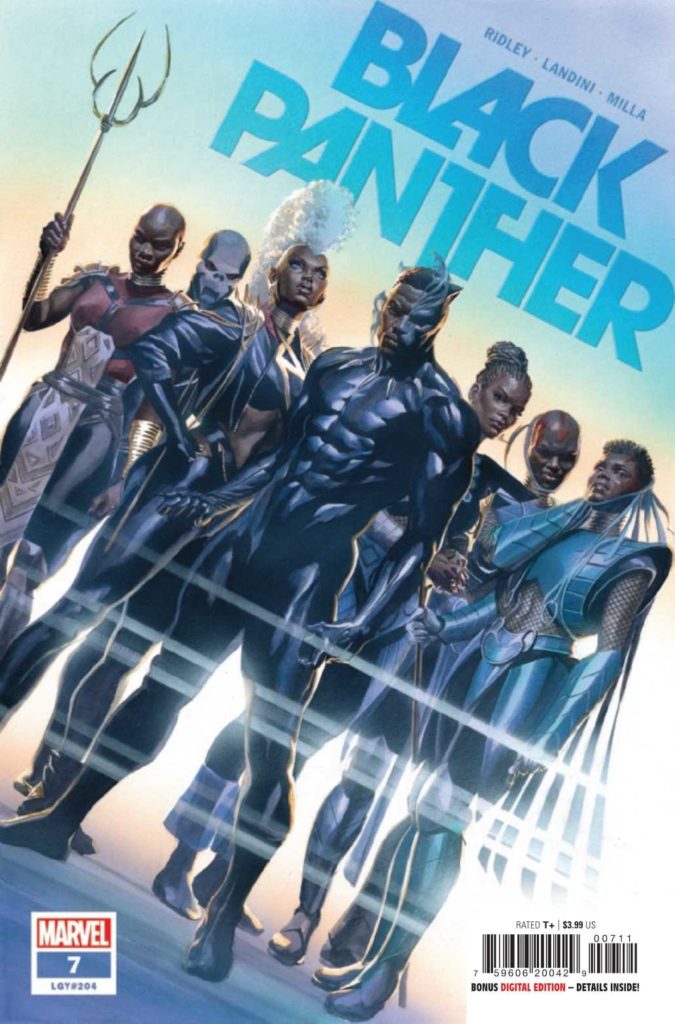 Black Panther #7
Marvel Comics
Written by John Ridley
Art by Stefano Landini
Colors by Matt Milla
Letters by Joe Sabino
The Rundown: In order to save Wakanda, T'Challa will have to make a decision that no one expects.
Akili and his forces have effectively taken over Wakanda and the prime minister discovers too that she has lost control. After leaving the building, she is forced to make a decision about what she can do to warn the people and get them to rise up. At the same time, T'Challa must convince the Dora Milaje to help him stop the impending civil war in the country and the only way he can do that is to offer to do something that no one expects.
After calling on the citizens to rise up against Akili, Tosin decides to help rescue the prime minister and take her to his village. As Shuri begins T'Challa's plan to stop Akili, she discovers something about the people of Zierra. Something that could be effective in liberating the country.
The Story: Ridley continues to develop an entertaining and tension filled story for Black Panther in this issue. Everything is coming to a head and I like seeing T'Challa have to make some tough choices and amends to people he's hurt in the pursuit of his goals. There is some interesting growth in the character and besides the great mystery, I am intrigued by the potential of what is to come for the character.
The Art: Landini designs some beautifully detailed panels throughout the issue. The art is expansive, vibrant and visually thrilling.