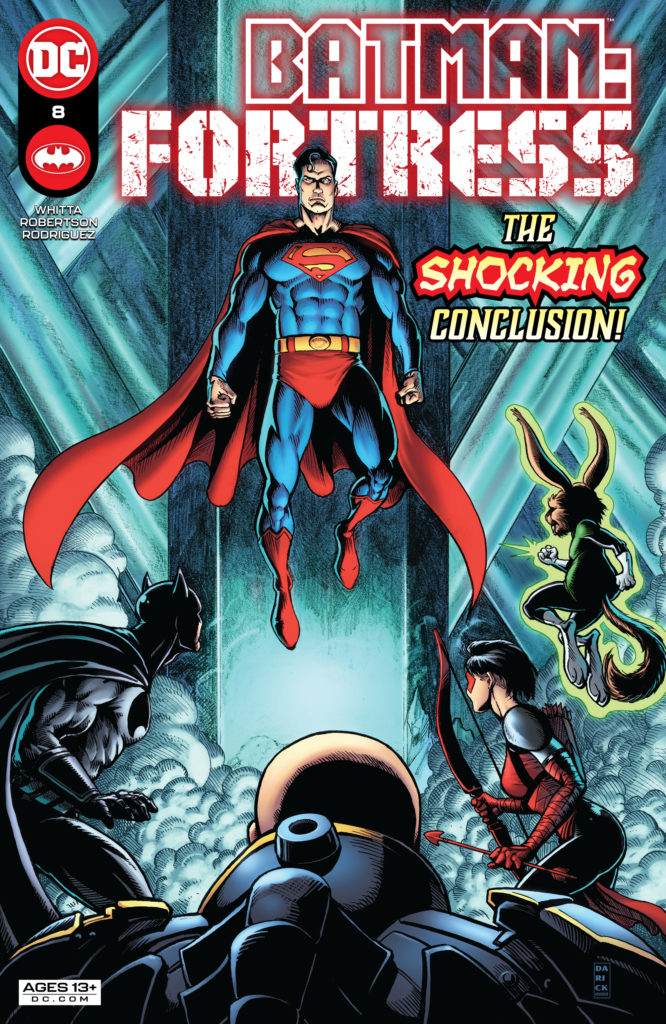 Batman: Fortress #8
DC Comics
Written by Gary Whitta
Art by Darick Robertson
Colors by Diego Rodriguez
Letters by Simon Bowland
The Rundown: Batman and his team revive Superman to face an alien threat.
With the planet shut down by an alien invasion, Batman, Luthor and a small band of heroes have made it past the security systems of the Fortress of Solitude to find Superman sleeping in a hidden chamber. After reviving the Man of Steel, they confront him about the threat and discover that it is something he knew about.
When the aliens arrive in the Fortress, Batman stands between them and Superman. After pleading for mercy for Clark, a compromise is made. One that will change everything for one hero and create a new mission for another.
The Story: Fast-paced and filled with surprising moments, the finale of this story starts off well, but quickly falls apart under the weight of the previous issues in this series. Everything in the finale just happens with little to no rhyme of reason and a sever lack of logic. All of the tension that has been building throughout the series is lost in this issue as the story seems content to just end story points abruptly. Even the surprise ending was poor. It wasn't in any way shocking and was in every way disappointing.
The Art: Robertson delivers some great character designs in the issues and there are a couple of great looking sequences in the story.