Batman: Fear State: Alpha #1
DC Comics
Written by James Tynion IV
Art by Riccardo Federici
Colors by Chris Sotomayor
Letters by Clayton Cowles

The Rundown: Gotham City is under attack. The city's masked community rally in their respective areas to prepare for the worst.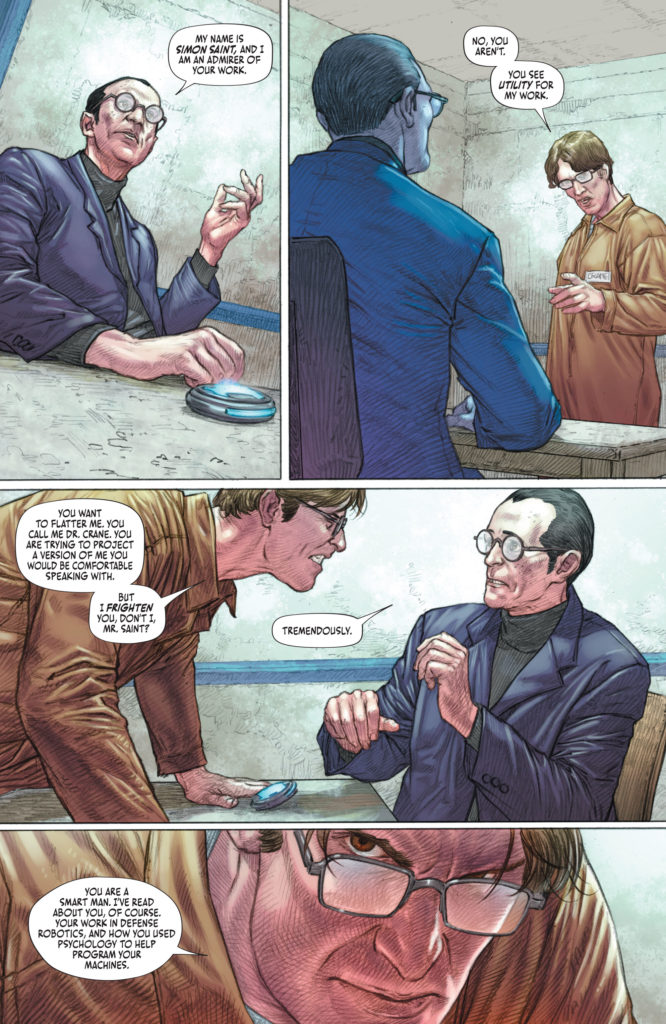 The story begins several months ago in Arkham Asylum when Simon Saint visits Dr. Jonathan Crane. The two then discuss the Fear State Theory. After which, Saint proposes an unusual opportunity. In the present, Crane dons a familiar costume and entraps someone surprising. After an altercation, Crane's enemy makes an escape.

Meanwhile, Saint reacts to some uncomfortable news. In order to protect his investments, he decides to initiate a series of actions that will impact all of Gotham City. Elsewhere, Commissioner Montoya contacts Mayor Nakano and expresses her concerns about the Magistrate.

Finally, the masked outlaws of Gotham make their own plans. At The Clock Tower, The Bat Family prepares to protect the city in the aftermath of an important announcement when something unexpected occurs. In Eden: Harley calls on a friend to help the Unsanity Collective. And in Alleytown, Catwoman must find a way to deal with the Magistrate.

The Story: This compelling tale had me hooked from the first page. I have been interested in the catalyst for the events in the "Future State" saga since it began, and this issue is the perfect introduction. This first chapter is expansive, and sets the stage for the upcoming multi-series crossover event. Tynion does an excellent job in crafting a multitude of narratives into one collective and cohesive story. I really appreciate how he provides a comprehensive overview of the previous storylines without causing a lag in the story telling. New readers will easily be able to follow along. There are so many good things about this issue. However, I was immediately drawn to Harley Quinn's part in the story. Her interactions with those around her are particularly touching. And I am interested to know more about these happenings. Overall, I feel this issue really highlights the interesting aspects of the separate Gotham comics. And I am excited to see how the Fear State evolves.

The Art: This is a beautifully crafted issue that perfectly captures the tone of each scene. The illustrations expertly create a distinct environment for each of the major locations without changing stylistically. Federici uses a detailed, traditional drawing style that emphasizes character expression and form. And this artwork is highlighted by a changing color scheme that shifts to suit the environment. I was completely engrossed as the mood shifted from the realistic to the fantastical. I found this edition to be emotionally engaging and transportive.