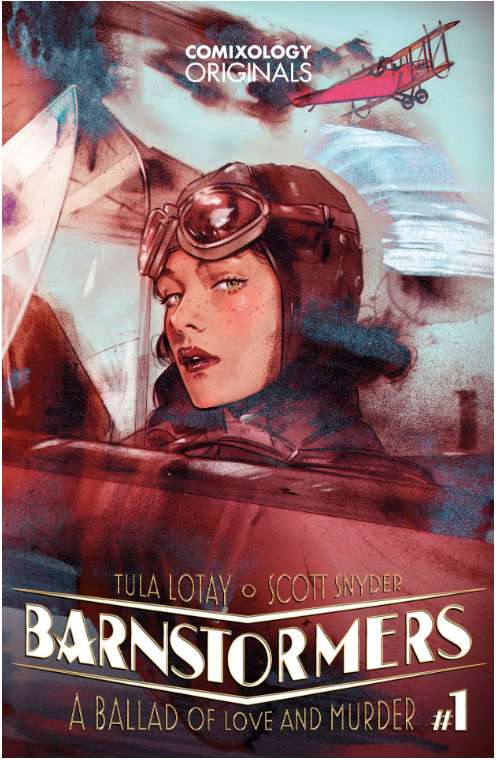 Barnstormers #1
Best Jackett Press/ ComiXology Originals
Written by Scott Snyder
Art by Tula Lotay
Colors by Dee Cunniffe
Letters by Richard Starkings
The Rundown: A brash pilot finds his life forever changed with the introduction of a brash and beautiful woman.
It's the 1920's and Hawk E Baron is not only soaring the skies looking for a place to land his plane, but he's also looking for a way to make some money with it. He's decided to become a Barnstormer and travel across the country making money with feats of fancy flying. Unfortunately, it's not a lucrative occupation and he's running low on fuel.
Hawk also has a personal problem. He is haunted by the vision of a creature that seems to dog his every step and even taking to the skies doesn't get him far enough away from the thing to make him comfortable. When Hawk's latest landing literally crashes a wedding in progress, he finds himself in the hands of an angry groom. That night he attempts to escape and discovers that he was set free by the mysterious bride who insists on coming with him.
The Story: Snyder crafts an interesting story in this first issue. It's a great adventure story that has a great, intriguing mystery within it, but there is also a really interesting love story forming in the story with two characters both trying to escape from something and finding each other. It's definitely engaging in tone and dialogue and I am interested in seeing where the story goes next.
The Art: Tula Lotay's art is sublime. The style is pitch perfect and breathtakingly gorgeous to look at. There are shots that are captivating and dazzle the senses.