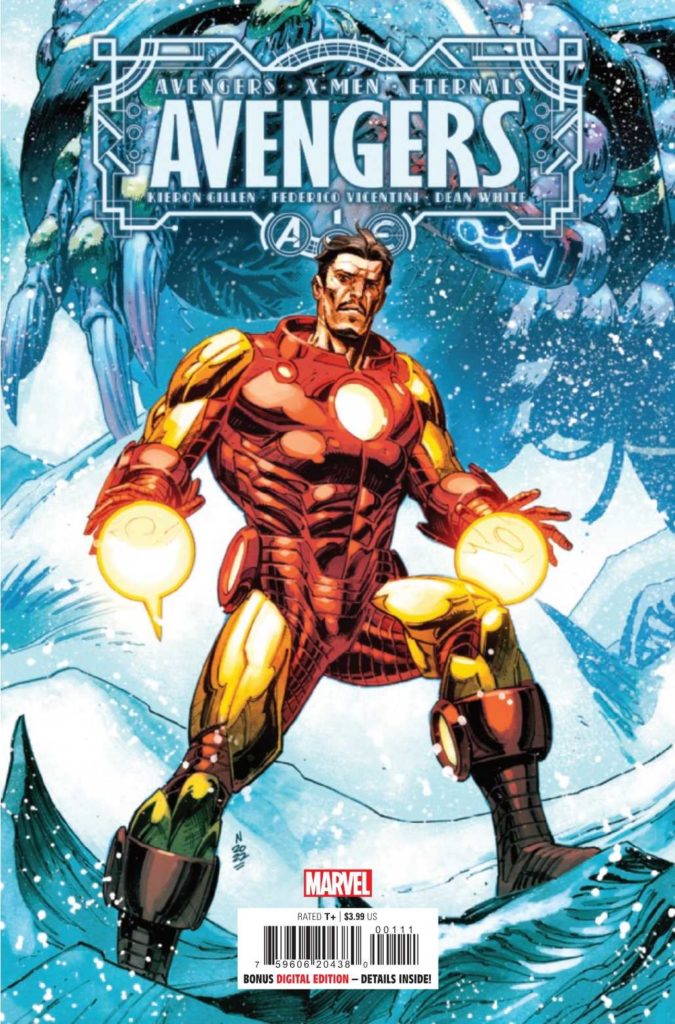 A.X.E.: Avengers #1
Marvel Comics
Written by Keiron Gillen
Art by Federico Vicentini
Colors by Dean White
Letters by Cory Petit
The Rundown: A small team of heroes infiltrates the Celestial, but one of them is targeted for something emotionally devastating.
Tony Stark and a small group of heroes have managed to infiltrate the Celestial before it passed its final judgment on humanity. Unfortunately, the Celestial is not without defenses and the heroes find themselves facing some formidable resistance.
In the midst of the battle, Stark is attacked by something that will take him on a journey through his greatest failures before revealing his deepest fears and more devastating personal faults. Something Tony will discover could be the key to stopping the Celestial once and for all.
The Story: Gillen crafts an interesting and engaging story for Tony Stark in this issue. As serious as the story is, Gillen allows the story to have moments of great humor. Focusing the plot on Iron Man allows for great character development as well. I like seeing how the story explores the character and how his actions have shaped the events of the series.
The Art: Vicentini delivers some beautifully detailed art that is as visually thrilling as the story. A wonderful looking issue from start to finish.