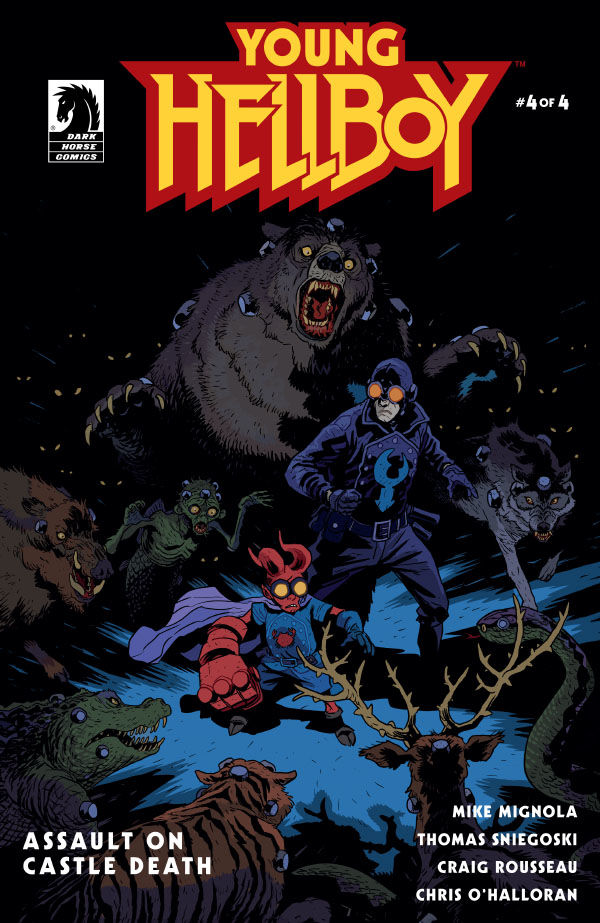 Young Hellboy: Assault on Castle Death #4
Dark Horse Comics
Written by Mike Mignola and Thomas Sniegoski
Art by Craig Rosseau
Colors by Chris O'Halloran
Letters by Clem Robins
The Rundown: Hellboy's adventure with his hero will mask a real threat getting closer.
Young Hellboy's mystery illness continues to make him hallucinate that he is on an important mission with his hero Lobster Johnson. An adventure that will pit them both against Nazi forces who want to launch a doomsday missile. Unfortunately, his mission is masking the reality of the cultist who is actively hunting him throughout the facility.
Sam lies injured after encountering the killer and his memories of being rescued by a mystery hero in his past spurn him to get up and rescue Hellboy. After completing his mission with his hero, young Hellboy finds himself on the roof with his killer inching towards him.
The Story: A fun, thrilling and satisfying conclusion from Mignola and Sniegoski. The story is filled with great moments for the character as well as an awesome mystery that connects Hellboy and Sam. I continue to love the world of this story as well as the little twists and turns throughout the story right up to the end.
The Art: Rosseau deliver some beautiful art in the issue. I love the visual style of the series and how visually thrilling and dynamic the imagery within it is.