T.W. Burgess, writer of awesome horror comics including Malevolents, The Eyrie and Hallows Fell has a new project for horror fans as well as those who love a good mystery game.
Photoghasts is a new Haunted Photo Game that takes Burgess' short form supernatural stories and turns them into a haunting new game for everyone to enjoy. According to Burgess' Kickstarter which launched days ago;
"The original intention of creating Photoghasts was being able to tell a short-form supernatural story that was short enough to fit comfortably on social media. Accompanied with an animated image to give the impression of a 'haunted photo'. Mixing two of my passions, found footage and ghost stories.
Since their launch, Photoghasts have raised well over a million views on Twitter and TikTok.
In 2019 I compiled my favourite Photoghasts into a haunted book. With found footage imagery which would 'come to life' when scanned with an additional app. As much as I enjoyed working on the book, after finishing it an idea had arisen and it wouldn't go away."
Photoghasts is now a 42 card set with 30 Augmented Reality Photoghast character cards and 12 action cards.
By using the Photoghasts app on a single smartphone / tablet, between 1 to 4 players can go head to head in an attempt to 'exorcise' each of the cursed Photoghasts before the time runs out. Each time a Photoghast is scanned with a smart device, the animated horror is unleashed in real-time thanks to the cursed technology of the app.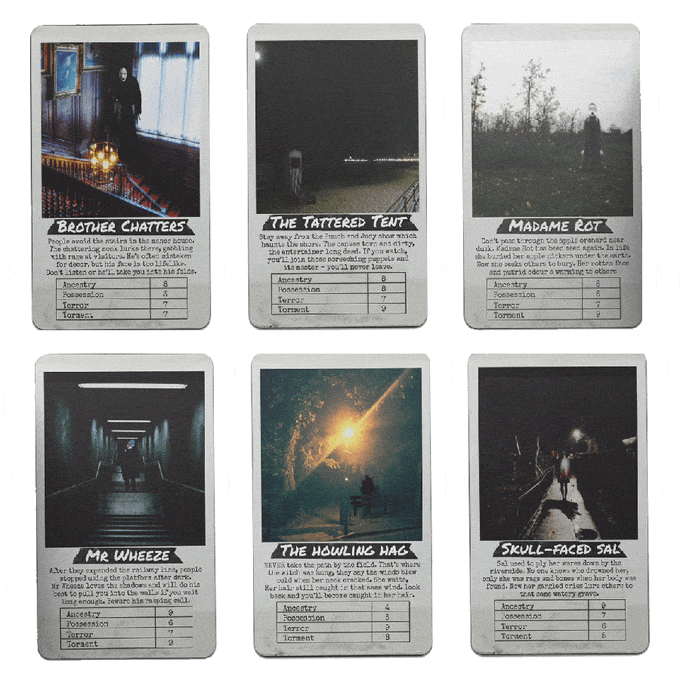 With scores calculated by the app itself, Photoghasts blends together video game score systems with the traditional card game thanks to the power of augmented reality. Compete against your friends IRL or even better, share your scores online via the app with other Photoghast players!
The game is perfect for playing with others and there are other haunting twists in store for those brave enough to play.
The Kickstarter for Photoghasts is live now and you can click here to find out more about the game, its features and much more.