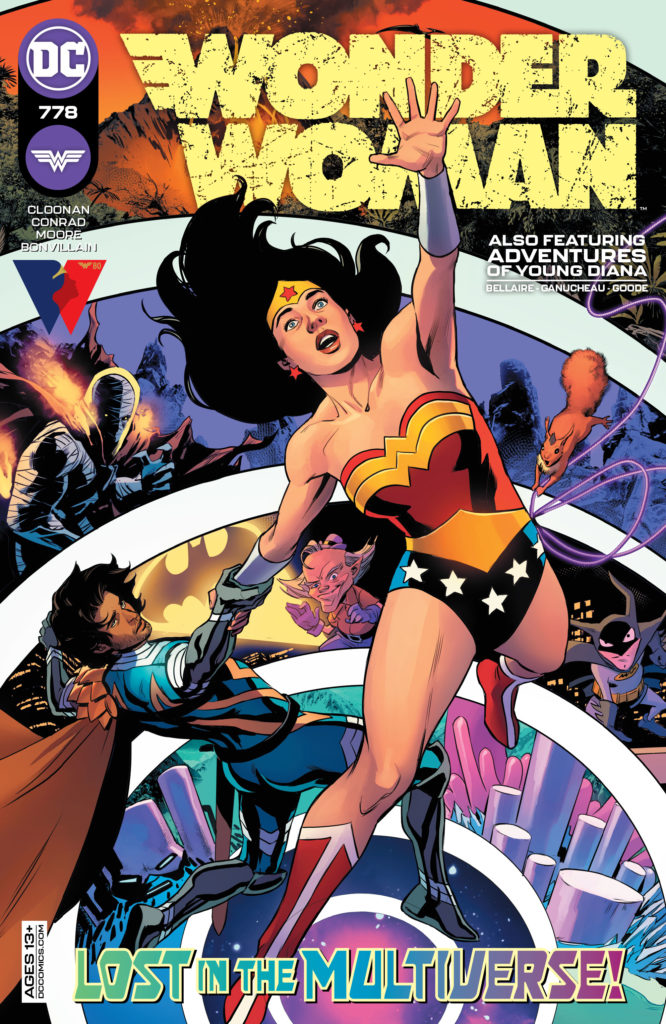 Wonder Woman #778
DC Comics
Written by Michael W Conrad and Becky Cloonan
Art by Travis Moore
Colors by Tamra Bonvillain
Letters by Pat Brosseau
The Rundown: Diana continues her hunt through the multiverse to prevent the destruction of the future.
Diana and her companions find themselves fighting for their lives in the Phantom Zone. After fighting their way to freedom, they find themselves on another parallel Earth. This time, they are in the fifth dimension and have to team up with Bat-Mite and Myxzptlk to fight Janus and free Deadman. Their dimension hopping continues as Diana tries to find a way to reason with the rogue god.
As their fight spills over onto new worlds, Diana and Sig get closer and the pair fight for the future itself. Eventually Diana finds herself somewhere completely unknown and as she prepares to confront Janus again, she sees that it might be too late for one of her friends.
The Story: This issue is a huge improvement over the last one, but there are still some things that I struggle with in the story. Diana's journey is compelling and the stakes are interesting, but the pace is so fast that you never really get a sense that her confrontations with Janus have any meaning. Sig, as a character, is getting more annoying than interesting because he doesn't seem to serve much purpose. Ratatosk is completely sidelined in the story and I find myself losing interest in the story even as it comes to an interesting cliffhanger.
The Art: Travis Moore delivers some great art. The visuals are impressive and have some great details throughout. There may be a lot going on in the plot, but the visuals do a great job of keeping the reader engaged.