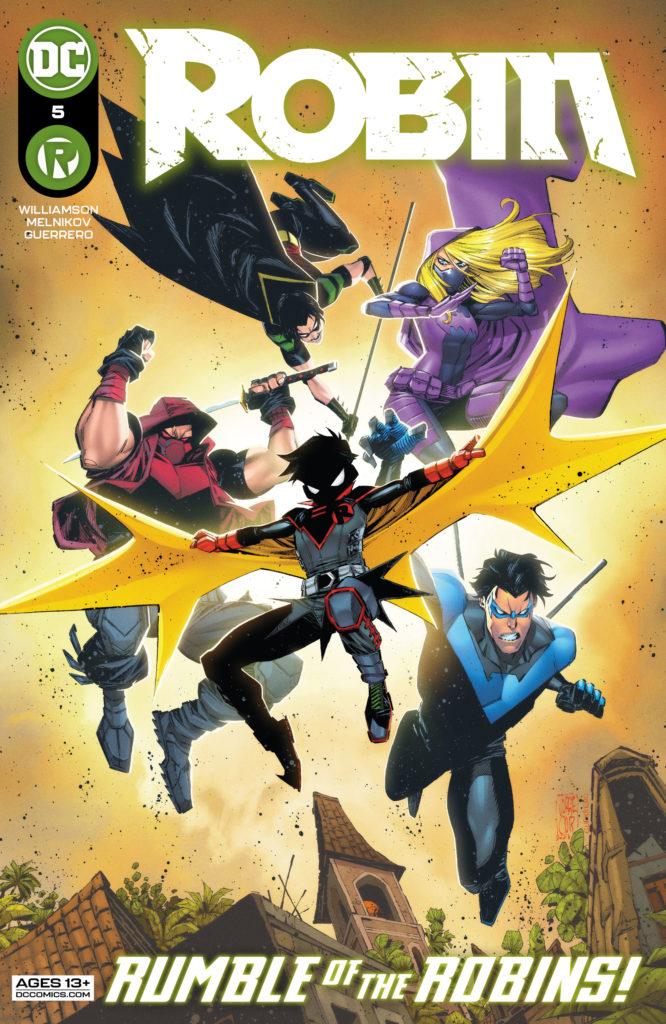 Robin #5
DC Comics
Written by Joshua Williamson
Art by Gleb Melnkov
Colors by Luis Guerrero
Troy Peteri ALW's Troy Peteri

The Rundown: Damian Wayne must face off against his fellow family of "Robins" before rejoining a deadly tournament.
The Bat Family "Robins" pursue Damian Wayne across a series of rooftops in an attempt to bring him back home. After a series of maneuvers, he is confronted by Red Hood. Afterwards, he meets up with Nightwing. After an emotional conversation, Damian leaves for Lazarus Island, and Nightwing has a talk with his family. Meanwhile, Ravager's recent incident serves as the opening of the Lazarus Tournament. Robin arrives just in time. Finally, the host of the tournament gives the contestants shocking information as the competition formally begins.

The Story: Williamson creates an interesting narrative that touches upon the relationship between Damian Wayne and his Bat Family members. In his final confrontation with Nightwing, Damian is forced to deal with the source of his inner turmoil. Its good to see Damian finally opening up. His aggression and misplaced anger was a hindrance to his success. It is also intriguing to learn that Damian has a master plan aside of revenge. I'm curious to find out what happens next in this tale.

The Art: The artwork in this issue is well done and appealing. I really liked the action scenes, especially the rooftop race. It was fun seeing all the Robins in action. In quieter moments, the detailed attention to character expression was emotionally captivating. I am very impressed by the quality of the illustrations in this chapter.